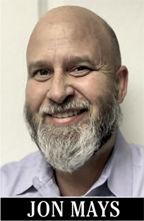 In a moment of weakness, I clicked on the marketing email. You may have too. They come in hot and heavy right about now. New wool socks! Check out this deal! Are you prepared for the holiday season? Cyber Monday is here!
You resist, but then you happen to be in a mood and you click. Hm, these are pretty good values. Twenty percent off? But then you get to the purchase, and there is a $7 shipping charge. Shipping! It's not like Amazon Prime, in which shipping is free. And it makes you not want to complete the purchase because, well, maybe it wasn't such a good deal after all.
That's why, in my well-researched opinion for this badinage, I have determined that all shipping should be free. Not only would it stimulate the economy, it would level the playing field for all retailers who do not currently have free shipping. Look at it as a way to keep an eye out for the little guy.
But more importantly, free shipping is a human right! Why should we as a populace pay for receiving products we purchase? That should be the province of the product provider. Now, before anyone starts getting ahead of themselves with questions, let me just say that of course this is a very good idea. And only a foolish person would think otherwise. Person-to-person shipping would still be paid. I'm only talking about purchases from businesses. Granted, the cost of our purchases would go up because of this rule, but at least we would feel as if we were getting a deal. And we wouldn't have to worry about how much it costs to ship. We would just know, this is the price we will pay, plus tax of course. Some merchants might be tempted to simply tack on a handling fee. After all, don't the TV guys always say, plus shipping and handling? Handling fees too should be abolished. So let me rephrase it, free shipping and handling is a human right!
I'm not really sure what handling is, but it probably is along the lines of convenience, online or restocking fees. We should probably get rid of those as well, but one thing at a time. Let's not get greedy and weird about it.
While I think now is the time for our politicians to get on board with this, there will likely be some concerns. Balderdash, but inevitable.
First of all, would eliminating shipping and handling fees simply encourage more shipping and handling? Isn't the overdelivery of products bad for the environment? People might purchase things they want but don't necessarily need at any time and have them delivered for free to their home or workplace. They might even set up some microphone device they give a cute name to that can order it for them from the comfort of their home. That's absurd. Surely, people will have self-control and only order items they definitely need and only group purchases so they get a few packages a year right?
Second, even with free shipping, people would still see the benefit of shopping locally, right? Their taxes stay in the community, the local business owners would have more flexibility to sponsor local youth sports teams, merchants get to know their customers and provide a needed and valued service. Those merchants also could continue providing their well-refined expertise and remain a strong and stable presence in the community.
And third, nothing is really free now is it? I already mentioned that prices would go up to pay for the inclusion of free shipping, but it would be out-of-sight, out-of-mind. We could all just collectively forget about all that and just live our lives as if we were indeed getting something for free.
After all, isn't it better to feel good about getting something for free rather than realize that we are actually paying for it through higher prices and/or reduced services? Hm. OK, I'm sticking with it. Yes. Shipping is a human right. Handling is a human right (though that sounds weird). OK, just shipping. Shipping is a human right. And how dare you suggest it's not. Print the bumper sticker and meme it, this is Twitter-ready. KONY 2012! #FREESHIPPING2019!
Who else is on board? OK, I'll wait. Five to seven business days you say?
Jon Mays is the editor in chief of the Daily Journal. He can be reached at jon@smdailyjournal.com. Follow Jon on Twitter @jonmays.