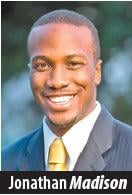 "Four ideological roots are the bedrock of each political party that governs our nation — believe it or not, you each identify with one of them." That is what my Political Theory Professor at Howard University said to my class. The professor continued to describe each ideological root: modern liberal, classical liberal, radical and conservative. As a class exercise, he had each student share what ideological category they logically fell under — thus making them a Democrat, Republican, Libertarian, etc.
All but one student was able to identify with one ideology. Frustrated and inattentive when the professor called on her, she exclaimed: "I can identify as a conservative." The professor went on to ask her what kind of conservative ideology she identified most with: traditional, neoconservative, etc. After a brief pause, she proudly replied, "my kind of conservative." The class erupted in laughter. Some students appeared to be outright offended that she held no respect for ideologies that have existed for thousands of years. Reclaiming the classroom, my professor asked her to explain. She replied: "I simply do not understand how we can lump everyone into one ideological box and expect that to accurately reflect the beliefs of every citizen." She went on to explain that she held both conservative and liberal views, depending on the issue. Needless to say, everyone in the class agreed with her sentiments, but held too much pride to not proudly stand by one set of principles. Today, she is a registered independent voter.
It is no secret that independent voters have been the determining tide in virtually every major election cycle since our country's inception. History shows us patterns in which the American voter ideologically shifts from backing one political party to another. I referred to this pattern as the "voter pendulum" — also referred to by some scholars as political realignments.
Year after year, politicians find new ways of attracting independent voters. Take for example a new effort to create a third dominant political party in California — "The Common Sense Party." Former head of the San Diego Economic Development Corp. Julie Meier Wright and former five-term Congressman Tom Campbell have taken notice of the growing number of independents in California. Together, they have launched an effort to capture the growing pool of independent voters who believe in common sense solutions over party politics. As naïve as a dominant third political party may sound, consider that their efforts are gaining momentum as more than 10,000 registered voters have signed petitions to create the party.
People are well aware of the tendency of American voters to realign with political parties, but one decade of voter registration change presents concrete evidence that a groundbreaking realignment shift is underway for the first time in history. This time, an overwhelming number of voters have chosen to realign their vastly different ideologies with the decline to state pool-the highest number in recorded history, in fact.
According to the Secretary of State's Office, 23.3% of California's 17.6 million voters are registered independents. This trend is mirrored throughout the country with roughly 43% of Americans identifying themselves as independent voters.
We witnessed the power of independent voters in the 2016 and 2018 election cycles. A rise in independent voters in battleground states was a determining tide in the 2016 election, and will likely have familiar effects in the 2020 presidential election. Often overlooked by news media and political pundits, this surge in independent voters played a major role in President Donald Trump's victory over Hillary Clinton.
Most political pundits will tell you the obvious assumption that this new realignment shift reflects that voters are increasingly frustrated with the government gridlock in Washington, DC. I do not doubt this, but there is more to this than meets the eye.
The mere fact that many of the voters once deemed Republicans or Democrats have decided to register as independents does not suggest these voters have abandoned their ideologies or principles. Rather, like the student's sentiments above, they refuse to be lumped into one ideological box. You can call this trend a temporary break with traditional voter registration and party affiliation, or a fundamental discourse with political parties in general.
One thing is certain, it is increasingly becoming more difficult to place people in one ideological box. After all, nothing frightens political parties and news media more than fear of the unknown voter. I suspect that independent voters find solace in the fact that others cannot be so quick to cast judgment on their political beliefs.
Regardless of your party affiliation, a new realignment is underway. Among other things, it means that the mystery box of independent voters has grown significantly, placing an even greater check on each political party.
A native of Pacifica, Jonathan Madison worked as professional policy staff for the U.S. House of Representatives, Committee on Financial Services, from 2011- 2013. Jonathan works as an attorney and can be reached via email at jonathanemadison@gmail.com.