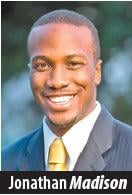 I am often reminded of the many times I would stand on my father's shoulders as a toddler overlooking Pacifica's Rockaway Beach. His strong clasp of my hands must have made me feel safe enough to enjoy the heights from his 6-foot stance. "Just be your best in whatever you do and you cannot fail," he would tell me. Throughout my life, his advice has been a seamless compass. Whether it was playing little league baseball, mopping floors as a busboy at my first job and now working hard as an attorney and father of a newborn — his wisdom has and continues to make me feel as though I am that glazy-eyed 2-year-old standing on his shoulders.
This Sunday, each of us will have the opportunity to celebrate Father's Day, a holiday founded more than a century ago. I hope each of you take the time to enjoy and reflect on the many ways your father may have affected your life. My hope is that we each make a genuine effort to cherish our beloved fathers every moment they are here with us. I am frequently reminded of life's fleeting nature and, as such, we should be encouraged to cherish our fathers as if today were their last. Although I cannot fully put into words the value of a loving father, one historic and touching event in the Olympics provides a fine example.
Olympic Gold Medalist Derek Redmond was undoubtedly expected to win the 400-meter sprint in the 1992 Olympic games held in Barcelona. After all, Redmond held the British record for the 400-meter sprint.
One-hundred-fifty meters into the semi-final sprint, he was abruptly forced to stop running. What began as a mere limp resulted in his utter collapse on the pavement. His painful cries were heard throughout the stadium as the crowd of 65,000 — now silent and on their feet — watched with grief as he clasped his right thigh. He had torn his hamstring and his chances of winning the race were virtually finished.
As the paramedics approached him, he quickly waved them off, rose to his feet and slowly began hobbling toward the finish line. After limping along for about 100 meters, he was advised to not continue for fear that he could cause permanent injury. Pushing the paramedics to the side, his hobble began to slow down once again as tears streamed down his face.
Then, an elderly man somehow managed to break through the Olympic security onto the track. The man fought off the last security guard before reaching Redmond as Redmond was about to fall once again. The elderly man placed Redmond's arm around the back of his neck and hobbled along with him. Redmond turned to his left to find a familiar face — his father.
"You do not have to do this," whispered his father. A determined Redmond replied, "Yes, I do."
Realizing that his son was determined to finish the race, he hobbled along bolstering him up just enough so that his son could continue on. Just before the finish line, Redmond's father allowed him to complete the race on his own.
For more than 20 minutes, Redmond and his father received a standing ovation from the crowd of 65,000 onlookers in the stadium. Beyond those 65,000 fans, the world witnessed a father in his later years assist his younger son complete a seemingly impossible task.
Like Redmond's father, there have been times in my life where I needed nothing more than a bolster from my father to continue along until I could stride again. It goes without saying that fathers are human and also make their fare share of mistakes. However, one thing is certain — I would not be the man I am today, or perhaps alive for that matter, were it not for my father's guidance, care and direction. At the very least, I want to thank him this Father's Day for truly epitomizing what a supportive father ought to be. As I continue along the journey of fatherhood, I hope to be as much of a rock for my child as my father has been for me.
A native of Pacifica, Jonathan Madison worked as professional policy staff for the U.S. House of Representatives, Committee on Financial Services, from 2011-2013. Jonathan works as a real estate and estate planning attorney and can be reached via email at jonathanemadison@gmail.com.