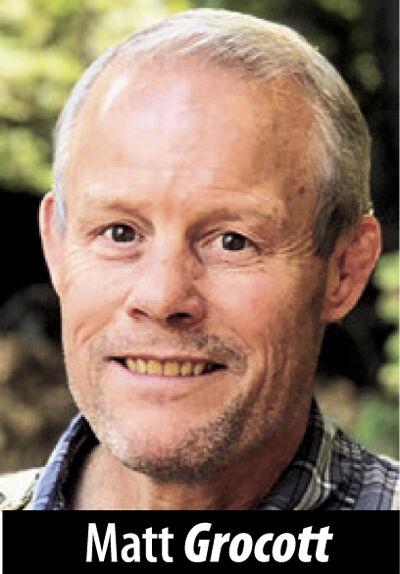 In today's column, there are two subjects. Both have relevance to the month that just passed. Probably you are expecting me to write something about the election of last month and, indeed, it is one of the topics. The other may be more obscure but I think you will find it compelling.
Regarding the election and the legal battles that have ensued, I haven't much to add to all that has been written and reported except one word: patience. The process needs to carry through to whatever conclusion. Certainly in 2000, candidate Gore was given his day in court over 537 ballot irregularities. In his case, they were in a single county in Florida and still the final decision did not come down from the U.S. Supreme Court until mid-December. President Trump, on the other hand, has many more cases in many more states involving many more votes. As Gore had the right to challenge, so too does the president.
Regarding the alleged election results, to me they are unbelievable. One reason is from my own experience. Having been a candidate for office six times, what I saw in each case is that, even with a small percentage of the votes reported, whatever the initial trend is, it holds throughout the night. So too with the final results weeks later. 
I remember with my first campaign, I went over to city hall at 8 p.m. to watch the results. Initially, only the absentees were reported and I was losing. I offered to a friend who was with me and who had helped with my campaign that I could still come out ahead. My friend wasn't convinced. He knew from experience that however the early results went, so went the final. "Matt" he said, "barring a miracle, you lost." He was right and there was no miracle.
In the case of president Trump versus candidate Biden, to believe that the candidate who could fill stadiums with thousands of people, have car and boat rallies spring up in support of him, have millions of followers on social media platforms and ultimately have incredible coat tails for many of the down ballot candidates of his party — to believe he would lose to a guy who couldn't fill a high school gymnasium marked out with 6 foot circles is simply not credible. 
What is credible and believable is the way things were going for the president on election night before the vote count was stopped in key cities in key battleground states. All of those cities, by the way, have one thing in common: They are run by Democrats. 
Not only is it not believable that Biden beat Trump by running a campaign out of his basement but also that he theoretically beat Hillary and Obama too. It is simply not credible and there are millions of Americans who, like me, will never believe otherwise. Sorry, it just does not add up.
My second topic is nonpolitical and dates back to November of 1975. As a young kid growing up in the Midwest, I remember listening to the news on TV on the evening of the 11th and hearing about a large freighter that had gone missing in a storm on Lake Superior. 
Earlier in the day on the 10th, before the ship left port, the weather had been unseasonably warm. The warm weather, while pleasant, may have been partly responsible for what doomed the ship and her crew because as a massive cold front moved in unexpectedly from the north, the mix of the two opposing air masses created a storm of historical proportions.
To this day, what exactly caused the ship to sink is still unknown, despite successful efforts to reach and photograph her where she rests, deep in the waters near Whitefish Bay. Some believe two of her hold covers were not properly secured and she took on water from the waves crashing over her decks. Others believe it was caused by lax maintenance to the welds which held her steel skin to her frame. Still others believe the ship hit bottom coursing past Whitefish Point. Or perhaps she broke apart as she was lifted between two towering waves, leaving her midsection unsupported. All that is known for fact is that one moment the ship was in communication with a trailing freighter and then — suddenly — she was gone.
According to legend, Lake Superior never releases her dead. When the 29 member crew of the Edmund Fitzgerald lost their lives, they were lost to the deep forever. Their loved ones were never allowed the opportunity to say "goodbye" one last time or to have a typical memorial service. This is written in honor of Capt. Ernest Michael McSorley and his 28 man crew. May they rest in peace.
A former member of the San Carlos City Council and mayor, Matt Grocott has been involved in political policy on the Peninsula for 17 years. He can be reached by email at mattgrocott@comcast.net.