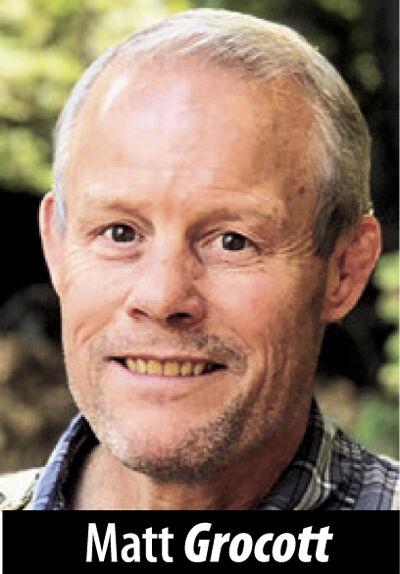 In a recent column, Sue Lempert wrote about the math curriculum being proposed for our schools. I would like to commend Sue for tackling the issue. As she admitted, her expressed view was not going to sit very well with some of her friends and associates. Good for you Sue for sticking to what you believe to be right. And by the way, I agree with you. Math should not be reduced to the lowest common denominator. We should continue to offer higher level math to those who aspire to it and who are capable of tackling it.
Similar to Sue, I too am going to address an issue regarding school curriculum, but not only at the middle and high school level. Darwin's theory of evolution is woven through teaching from preschool to the highest level of our colleges and universities.
In 1859, Charles Darwin established his theory of evolution in a book titled, "On the Origin of Species." By the time our children graduate high school, they have been directly taught at least the basics of Darwin's theory. It is likely they've been told of his five-year voyage aboard the HMS Beagle. It was then that he formulated his evolution hypothesis.
One of the famed stops of the HMS Beagle was the Galápagos Islands. In honor of Darwin's research there, one of the islands was named Darwin Island. About a half mile off the coast of Darwin Island was a rock arch towering 144 feet above sea level. That structure also carried his namesake: Darwin's Arch.
I write "was" referring to the arch because recently, the top portion of the arch collapsed into the ocean. No longer an arch but now two towers, it begs the question: Will the remaining structure retain his name? The circumstance of the arch's collapse may be prescient to the collapse of Darwin's theory. Fissures are certainly showing.
Even before publishing his book, scientists and professors of Darwin's day were beginning to accept his new ideas. A fellow scientist, botanist John Stevens Henslow, put out a pamphlet containing Darwin's geological letters for consideration by a select group. By the time of Darwin's death in 1882, his theory was showing up in science textbooks. From that point on, it was off to the races. Soon his theory was elevated to fact.
"Darwin's theory is … no longer a theory, but a fact … Darwinism has come of age so to speak. We are no longer having to bother about establishing the fact of evolution." — Sir Julian Sorell Huxley; English biologist and eugenicist; (June 22, 1887 – Feb. 14, 1975).
"Today, although many educators play it safe by calling evolutionary ideas 'theory' instead of 'fact,' there is no reputable biologist who doubts that species, including Homo sapiens, have developed with time, and that they are continually, though slowly, changing." — Isaac Asimov; professor of biochemistry, Boston University; (Jan. 2, 1920 – April 6, 1992).
"It is absolutely safe to say that if you meet somebody who claims not to believe in evolution, that person is ignorant, stupid or insane (or wicked, but I'd rather not consider that)." — Richard Dawkins, Oxford scientist and author.
Isn't it interesting that such a hard line of opinion would be developed when Darwin himself left the door open to a ray of doubt? In a letter to a fellow scientist, he wrote: "I remember well the time when the thought of the eye made me cold all over, but I have got over this stage of the complaint, and now small trifling particulars of structure often make me very uncomfortable. The sight of a feather in a peacock's tail, whenever I gaze at it, makes me sick." (Letter to Asa Gray, American botanist, April 3, 1860).
Precisely what concerned Darwin has evolved in the field of science. The deeper we have been able to see into the inner workings of the most basic cell, the more complexity we have found there. It confounds the idea of life evolving out of a primordial soup. To witness the most basic operation inside the simplest of cells would amaze anyone viewing it. Just as one would expect a wristwatch found at the beach to have a designer … a creator, so one would expect the cell to have a designer and creator as well.
So why do we continue with curriculum in our schools which denies the obvious? Why does modern science and academia continue in their blindness? I have a theory: The denial is tied to morality. If there is no creator, then there is no God and if God does not exist, then no arbiter of morality exists other than humankind. Tied to denial, of course, are consequences and I believe we are living in the midst of those consequences.
A former member of the San Carlos City Council and mayor, Matt Grocott has been involved in political policy on the Peninsula for 17 years. He can be reached by email at mattgrocott@comcast.net.