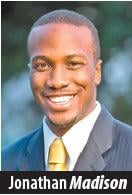 Cancer is among the leading causes of death in America. In 1999, my beloved grandmother, Helen Williams, was among the millions of Americans who valiantly battled the deadly infirmity.
At 10 years of age, I could not reconcile that a deadly disease could be manifested from within the human body. Unlike viruses that bring disease to our bodies from external sources, cancer is a cellular disorder produced from within. Just as a Trojan horse virus conceives violence and disorder from within a computer, cancer conceives from within our very own cellular hard drive a disease with the power to kill its host.
With great sadness, I watched my grandmother grapple with the debilitating symptoms of the sickness: dreadful fatigue, difficulty breathing and unfathomable pain. To ease the symptoms, the doctor prescribed a number of medical drugs. In an attempt to cure the disease, the doctors applied chemotherapy — a painful process by which cancerous cells are targeted for depletion from the body. The intent is to produce conditions upon which the human body can regenerate healthy cells in place of the disorderly cells. The body must heal itself.
Unfortunately, my grandmother lost her battle with cancer one year later. As my family mourned in her hospital room, I will never forget seeing the five to seven bottles of prescription medication on her bedside drawer. In that moment, it became clear that no matter how vast or good one can treat symptoms, one can ultimately perish without a cure for the underlying problem.
Like the inborn disease of cancer, within our nation is a homegrown Trojan horse of deadly consequences. Our nation breeds the disorder of prejudice, racism, mental and social disorders of mass proportion. One symptom of the disease is a present topic of discussion: mass shootings.
In the wake of five shootings over the last several weeks, politicians, pundits and the national news media have flooded social and national media with opinions about how better politics can address mass shootings.
Federal assault bans. Background checks. Red flag laws. Sure, gun control regulation proposals warrant discussion. This is especially true in light of the fact that the most recent shooting in Philadelphia involved a "ghost gun" — a gun built of different gun parts that is virtually untraceable by federal or local authorities. What warrants a bigger discussion is the need for moral and cultural repair in our nation.
Conservative or liberal, one cannot argue with the fact that race-based hate crimes have been on the rise for the past three years. Antifa attacks from the far left have also been on the rise against conservatives on college campuses. White supremacy and hate groups have increased their dominance on our culture, and they are increasing at the rate of malignant cancerous cells in the human body.
For far too long, our nation's solution has been to treat the symptoms by merely passing legislation that appeals to the public. The underlying problem continues to be ignored until it increases with visibility in the public eye. It is human nature to prefer the "quick fix" or temporary removal of symptoms rather than to address the most difficult problems. By nature, most politicians do not have the humility to publicly acknowledge that some issues are beyond the reach of politics, giving credence to the Proverb: "Pride comes before the fall."
The smallest acts of pride can camouflage a person's deepest flaws. The same pride that causes makeup and a smile to camouflage any sign of physical or emotional pain within a woman. The same pride that causes a person's new car to appeal to those around them, never questioning the loan balance due on the car note. The same pride that would cause a nation to pass countless forms of legislation backed by interest groups, but silently ignoring the nation's problems underlying the symptoms.
Like any treatment to cure a disease, the process will be painful. To regenerate a moral and cultural healing from within, our nation's leaders must openly acknowledge the problem exists.
We can truly begin repairing our culture by treating all humans with dignity. We can treat drug addicts like cancer patients, rather than criminals. We can enact policies that welcome those with social and mental health related issues to receive proper treatment and care. We can elect leaders who are drenched in humanity and set a tone of humility, respect and hard work to make the common person's life better. Together, we can repair our communities by respecting people of every creed and color, using that respect to build inroads in public service, community enrichment and a stronger military.
What we cannot do is allow our elected leaders to simply bicker and debate the merits of legislation without offering solutions that do more than address symptoms of a bigger problem.
A native of Pacifica, Jonathan Madison worked as professional policy staff for the U.S. House of Representatives, Committee on Financial Services, from 2011-2013. Jonathan works as an attorney and can be reached via email at jonathanemadison@gmail.com.