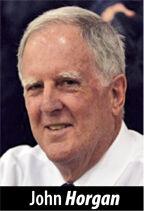 Last week's revelation that Dave Pine, a San Mateo County supervisor and chair of Caltrain's Peninsula Corridor Joint Powers Board of Directors, loaned $500,000 of his own money to the campaign to approve Measure RR on the Nov. 3 ballot was instructive.
More than anything else (besides the impressive, obvious fact that Pine has the available cash to do this in the first place), the move indicates a certain sense of last-minute urgency, a near-emergency if you will, on the part of the pro-Measure RR people.
That's understandable. The proposed 0.125-cent sales tax increase for the three involved counties — San Francisco, San Mateo and Santa Clara — is far from a slam dunk at the polls. 
First, to secure the OK for the tax (which could generate more than $100 million for 30 years for the struggling commuter rail line), the measure will need an affirmative vote of at least two-thirds of those casting ballots, never an easy task even in the best of times — which these are most certainly not.
Second, disruptive and acrimonious delays in getting the tax on the ballot caused a great deal of uncertainty, bad blood, bad publicity and angst well into August.
Third, in order to get grasping politicians in San Francisco and Santa Clara counties to come on board and finally agree to go forward with the tax at the eleventh hour, San Mateo County transportation officials had to agree to certain key concessions.
Two big ones were pledges to examine (and probably alter) the Caltrain administrative setup (currently operated and controlled by the San Mateo County Transit District) and to allow the other two entities, both eager to secure some veto power over Caltrain's hoped-for new revenue, to control a significant portion of the potential tax haul. 
None of this has been helpful in the slightest in the effort to prop up Caltrain's finances which have been devastated by extremely low ridership during the pandemic.
Although there is some faint hope that, perhaps, a monetary infusion of federal taxpayer money as a temporary stopgap could arrive at some point, there is no guarantee in that regard as politicians in Washington, D.C., wrangle over a second economic stimulus package.
In the end, a successful Measure RR would put Caltrain on a much firmer fiscal footing going forward. Whether the voters in the three involved counties agree with that premise remains to be seen.
Will the pervasive influence of the pandemic (and the unexpected phenomenon of legions of employees and others working from their homes with no need to commute to an office) cast a depressing pall over Measure RR?
We have less than a week to find out. By the way, if it does fail, you can bet that it will return to a local ballot in the very near future — and the campaign to pass it will be better coordinated, financed and focused.
CALL IT SHORELINE NORTH: Way back in the less-than-environmentally-friendly 1950s, who could have guessed that the ultra-tacky Burlingame city dump would one day become a concert venue?
Well, it has. Just call it "Shoreline North." The dump, of course, is long gone, its rotting, reeking debris drained, covered and capped. 
It's been replaced by a soccer field and a golf driving range which, in turn, is now being utilized for drive-in musical events, at least for now. 
The ongoing pandemic has a way of forcing some very creative business makeovers. This is just one of them.
A COASTSIDE CELEBRITY: Who is Ric Bucher? He's a talented sportswriter/commentator who utilizes a variety of electronic media platforms to get his messages out to the masses.
His specialty is opining about the ins and outs of professional basketball. He has a national, if not international, following. He's also one of Half Moon Bay's most prominent citizens, at least this month.
That's because he and his state-of-the-art, $40,000 home office were featured (with 11 color photos) in last weekend's Wall Street Journal.
Guys and gals, you can't buy that kind of worldwide publicity.  
John Horgan has always been a sucker for Peninsula items of interest, whether of great moment or not. You can get in touch with him by email at johnhorganmedia@gmail.com.