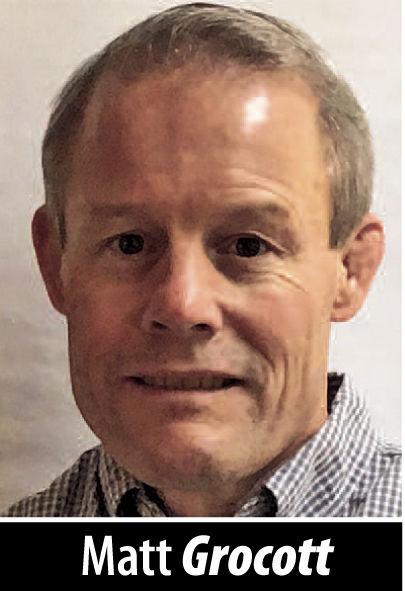 How many of us caught Trump's State of the Union Address? I did not, not at least the live broadcast. Like many, my schedule was too busy. I was coaching a junior high wrestling team. However, after seeing so much commentary on the internet, both positive and negative, I knew I had to watch it. Easily, I found his speech online and gave it the 82 minutes required to watch, from start to finish.
The time was worthwhile. It was an important speech, if for no other reason than to hear the president lay out the meaning of his phrase, "Make America Great Again."
The president cited numerous examples of great Americans from our past. One was Buzz Aldrin, the Apollo 11 astronaut who, along with Neil Armstrong, set foot on the moon in 1969. Mr. Aldrin was in the audience and was given a standing ovation. On July 21 of this year will be the 50th anniversary of that historical event.
It is fitting and important to give recognition to great Americans like Mr. Aldrin, especially before those of his generation are passed. The president adroitly used the opportunity to point to our future. He spoke of continued space exploration and he stated emphatically, "this year, American astronauts will go back to space on American rockets."
The president went on to highlight many past achievements of our country and to cite the many great things America is yet to do and can do in her future. He intoned, however, these accomplishments can only be achieved by "rejecting the politics of revenge, resistance and retribution, and embrace the boundless potential of cooperation, compromise and the common good."
After these words, there was a standing ovation by most of the audience … but not all. Auspiciously, there were those dressed in white who did not stand, did not applaud, but instead sat stone faced. "Why," I wondered about the white outfits? And specifically, "Why white?" Throughout the rest of the president's speech, I took note of these audience members. The question came to mind: "When in America's past has such a strong display of disunity been witnessed?" And I wondered, is what some are characterizing as a "cold civil war" upon us?
Many examples can be given of when the white-clad audience members sat idle. For instance, when the president said: "Tonight, I ask you to choose greatness," they sat idle. He spoke about our economy, our net export of energy, the number of Americans who are off unemployment and working, lowered taxes and the doubling of the "child tax credit." Idle. He cited a new and significant legislation called, "Right to Try." No applause. He spoke of our military strength and then ended this segment of his speech with the statement, "Members of Congress, the state of our union is strong!" No applause from these few.
One must wonder, if these people cannot applaud the good things happening in America today, what is it they would applaud? A weak economy? More Americans unemployed and receiving government aid? Would they rather see Americans sitting in lines waiting to buy gasoline for $7.99 a gallon? Or paying $5 per therm for natural gas and $1.25 per kilowatt for electricity? Maybe they would prefer the "child tax credit" did not exist? Perhaps they would rather our military be weak, to have our Navy in ships from World War II and our Air Force flying planes from the Vietnam era?
While these examples are significant, what struck me most was when the president called for legislation to "prohibit the late term abortion of children who can feel pain in the mother's womb." Not only did these people not applaud, the look on their faces was stone cold.
For me, this is an extremely personal issue. Once, while having a discussion with my mother as an adult, she shared with me that were abortion legal at the time she carried me, she would have considered the option. I do not hold this against my mother. What she stated was matter of fact. However, I do take it personally that in America today, knowing what we know medically about a child in the womb, we still do not offer that child the protection of life. It is a moral travesty.
Earlier I posed the question, not authored by me, but which I have heard others ask: Are we in the midst of a cold civil war? If we are, is an underlying issue, much as slavery was in the 1860s, that of abortion? I invite your thoughts on the question.
A former member of the San Carlos City Council and mayor, Matt Grocott has been involved in political policy on the Peninsula for 17 years. He can be reached by email at mattgrocott@comcast.net.