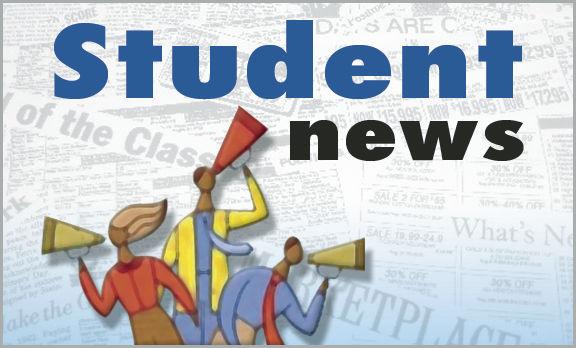 Week after week, I sit in an endless string of traffic. No matter how many times I'm honked at or cut off as cars make a mad dash for the exits, it's not about the journey. For me, this drive is in particular is about the destination, the San Mateo Daily Journal to be exact. 
Sitting in the newsroom, editing letters to the editor, inputting calendar events and pitching my student news column ideas, I forget all about the road ragers and focus on what I love to do.
When I first began the time-consuming process of drafting, editing and finalizing personal statements for college, there was one question that immediately caught my eye: "Think about an academic subject that inspires you. Describe how you have furthered this interest inside and/or outside of the classroom."
Many students find that inspiration in math or science, history or English, but for me, it was in journalism. Why? Because it has shaped me into the person I am today. 
For those of you who don't know me, my name is Veronica Roseborough. I've been at the San Mateo Daily Journal for about a year now, and, upon graduating high school, it became evident that the time had come for the next round of aspiring journalists to explore the newsroom I've held close to my heart. 
Given the present circumstances, I haven't been at the office since the schools shut down and they sent us off to college on our merry way. Don't get me wrong, I could not be more grateful to have the opportunity to pursue higher education, but all I can picture is returning to high school in the fall just as I would return to the Daily Journal.
Needless to say, it's hard to let go without a proper goodbye; it's not the same when your name flashes across a screen and you turn your tassel from the comfort of your couch, or you pick up your diploma like you are ordering at a McDonald's drive-thru.
Though I may not have closure, with time I hope to develop acceptance and that, by the time I step onto university campus, I'll realize that the next chapter of my life has begun. Yet, leaving the Daily Journal is different.
While I may have spent only a fraction of the past four years in the newsroom, the experience was as invaluable as any education and although I may be a former high school student, I know I will always be a part of the Daily Journal.
I ended my personal statement with this closing sentence: "As I sit at the intern desk, surrounded by professional journalists, their interviews and their ideas, I simply cannot wait to be one of them."
Though the message is self-explanatory, what I didn't have the opportunity to say back then is that working at the Daily Journal was a turning point in my decision to pursue journalism. Not only did I enjoy the work, but being in the presence of journalists allowed me to picture my own future and assured me that I was on the right path.
As a result, I've already joined the newspaper at my university and found a community I can call home, something that was of utmost importance to me in high school and will continue to be for the rest of my life.
So, to Jon and the entirety of the Daily Journal staff, thank you for fostering such a welcoming environment where us interns can learn, grow and express ourselves both in and outside of the newsroom. To those reading this, I can't thank you enough for continuing to support journalism and the Daily Journal as a whole.
I've said it before and I'll say it again: now, more than ever, journalism matters. In the midst of a pandemic, the reignition of the Black Lives Matter movement, and so much more than we could have possibly imagined, journalism matters.
I don't think I can possibly say any more goodbyes so instead, I'll simply greet what's to come. Now, on to the next adventure.
Veronica Roseborough is a senior at Carlmont High School in Belmont. Student News appears in the weekend edition. You can email Student News at news@smdailyjournal.com.