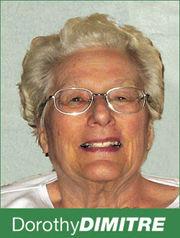 "The truth, you see, doesn't have a political agenda. It doesn't change to suit your needs. The truth simply is. And the truth about climate change has long made itself painfully clear." — Leonard Pitts Jr.
For the past few weeks, many young people have been marching to bring attention to the dangers of climate change that is threatening us. We have read in our newspapers and seen on TV the many who want to bring to everyone's attention the need for changing many of our habits to slow the process down so they have a decent future. They, and many other concerned citizens (estimated at 8,000) demonstrated in San Francisco Sept. 20 "to urge political leaders to do more to address climate change." The numbers in many other cities were equally impressive.
They no doubt realize that July was the hottest month worldwide recorded since 1880 when modern temperature records began. The 10 hottest years over that period have all occurred since 1998, according to NASA and the National Oceanic and Atmospheric Administration. They believe our climate scientists, who, as reported in this newspaper, "have warned that global warming will subject Earth to rising seas and more heat waves, droughts, storms and flooding, some of which have already manifested themselves."
Mother Nature has many ways of reminding us of her influence on our lives. Sometimes she reminds us with huge, frightening jolts. Sometimes she moves in more indirect ways, as with hurricanes and droughts. We have no control over catastrophes like those that capriciously devastate so many lives. All we can do is work toward preparedness and then pick up the pieces and recoup the best we can.
Mother Nature also speaks to us in subtle ways — one in particular that too many of us have failed to respect. This is the insidious, increasing environmental threat that has much greater potential for widespread damage than an earthquake or hurricane. While it is compromising our health now, it's potential for causing tremendous suffering in the future is most alarming.
We are bringing this catastrophe upon ourselves because a great many of us are unwilling to consider the direct effects of our actions on our air, earth and water. Whether an unpredictable, violent act of nature or a predictable environmental crisis, the message is clear. Nature will have her way with us, and as we are part of nature, it is very important that we respect her, listen to what she is telling us, and build a system of values that will become the foundation for respect of all things natural. But another kind of environmental crisis — the pollution of the mind — prevents this.
"In our civilization, we have modified the environment to such an extent during this cultural evolution that we have lost touch with our biological and ecological base more than any other culture and any other civilization in the past. This separation manifests itself in a striking disparity between the development of intellectual power, scientific knowledge and technological skills on the one hand, and of wisdom, spirituality and ethics on the other." — Fritjof Capra, "The Turning Point."
For the "revelation of the heart" necessary to build a new system of values, we need time for thought and contemplation. And those who are frantically pursuing the contemporary American dream usually do not take time to give much thought to environmental problems, much less do anything to alleviate them. But for any worthwhile progress to be made in saving Mother Nature, we have to keep in mind that our general lack of respect for our environment is a systematic disease that is infecting all of us and needs to be cured.
We have to work toward getting to the core of the abscess — the government policies, political manipulations and corporate practices that are allowing the destruction of the very air, earth and water that we depend upon for life. But too many Americans seem to be in a robotic state, like addicts — some still in denial, some painfully aware of their destructive habits but tied to an addictive system that supports their habit, and, as a result, have no clue as to how to change.
"The addictive system asks us to become comfortable with activity participating in our own nonaliveness. Addictions take the edge off, block awareness that could threaten our seeming equilibrium and allow us to grow, and keep us too busy to challenge the system. They are essential to the system. … If we love this society in which we live, we must be willing to confront the reality that it has a disease." — Anne Schaef, "When Society Becomes an Addict."
Since 1984, Dorothy Dimitre has written more than 1,000 columns for various local newspapers. Her email address is gramsd@aceweb.com.