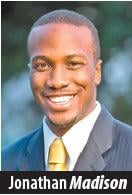 If I asked you to provide a brief description of the roles and responsibilities of a U.S. president, you would probably name some of the primary functions referenced in the Constitution. Some of those powers vested in the president include signing bills into law, providing for our national defense alongside Congress, vetoing unnecessary legislation, and providing leadership for our country's prosperity and sustainability. There is nothing wrong with this academic description — after all, those powers are granted to the office of the president through our nation's founding document.
One essential quality, however, has distinguished the greatest American presidents from others throughout history. You will not find this leadership trait in Article II of the Constitution or in case law precedent. It is a virtue that the most memorable presidents — such as Abraham Lincoln, John F. Kennedy and Ronald Reagan — have shared. It is the capacity to inspire you and I — the American people — to reach beyond our present circumstances and to believe that with ambition and hard work, anything is possible for each and every one of us.
Our country witnessed this quality in President Lincoln's Emancipation Proclamation and the Gettysburg Address. We witnessed it in President Kennedy's address to the American people on how we made real the possibility of launching a spacecraft to the moon. We witnessed it when President Reagan demanded that Russian President Mikhail Gorbachev tear down the Berlin Wall — a symbol of one of history's greatest divisions — the Iron Curtain.
Today, I would like to focus on President Ronald Reagan — a man who possessed what seemed to be a supernatural ability to inspire the American people during his tenure as commander in chief.
The 18th anniversary of Reagan's passing came last month on June 5. Contrary to wide belief, at the dawn of Reagan's term, he was far from the influential leader we recognize him for today. A former governor of our great state and the 40th president of our grand nation, Reagan entered the oval office with a number of problems facing the nation, such as high inflation and poor economic growth.
His turning point would present itself in a fateful way — an assassination attempt just one year after his election. Minutes after addressing the Building and Construction Workers Union at the Washington Hilton in downtown Washington, D.C., a man fired several shots at Reagan — one of which pierced his chest. Battling the prospects of a potentially fatal wound, Reagan withstood the injury as a poised comedian. Reagan's first question to the doctors and nurses assigned to his aid was quite unexpected: "Are you all Republicans?" The country witnessed this event, his swift recovery amidst such a tumultuous event, and quickly grew to love the man for his overwhelming optimism and charisma.
Among his greatest achievements, he implemented policy initiatives that made possible a wave of small businesses throughout the country. As Reagan once said, "Small business is the economic engine" of our country.
He worked closely with Russian President Mikhail Gorbachev to bring down the Berlin Wall, which sowed the seeds for the decline of the Soviet Union and the end to a decadeslong Cold War amongst world powers. Reagan also strengthened our national defense by giving our military and navy the necessary resources to ensure our safety from all shores.
Reagan's achievements speak to his exceedingly high optimism. This optimism followed him to the end of his second term as he battled old age and sickness. An older, feebler Reagan warmly gestured that he would now begin the journey that would inevitably lead him to "the sunset" of his life. He concluded by firmly claiming with certainty that there would always be a "bright dawn" in America's future.
A native of Pacifica, Jonathan Madison worked as professional policy staff for the U.S. House of Representatives, Committee on Financial Services. Jonathan is Lead Attorney at The Madison Firm and can be reached via email at jonathanemadison@gmail.com.