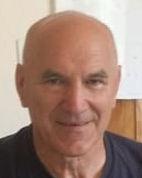 Sveto Olujic was born on November 1, 1955 in Split, Croatia, and died on February 7, 2019 in San Mateo, California.
Sveto grew up in the small Croatian village of Lovrec in the Dalmatian Hinterland, and was raised by his parents, Josip and Mila Olujic. Alongside his three siblings he helped his father with the family business of fine woodworking and carpentry. At twenty-two years of age, Sveto met Maria Buljan and he emigrated to Maria's adopted home of San Mateo, California, where they married on March 26, 1978.
In the United States, Sveto continued his work of carpentry and construction. He was a master chess player, competing in tournaments throughout the Bay Area. He was a member of the Burlingame Chess Club and Kolty Chess Club for decades. He and Maria were avid world travelers and visited six continents. Sveto loved participating in Maria's anthropological research and teaching in many parts of the world. Sveto was a brilliant and talented man who will be remembered as a loving husband, father, brother, and friend. He was a dedicated supporter of his sons' sports pursuits, especially water polo and soccer. He was always generous and selfless in offering his time and talent to others. Sveto was always there for everyone.
Sveto is preceded in death by his brother, Nedo. He is survived by his wife Maria, sons Steven and Matthew, sisters Zdenka of Burlingame, California, and Ivanka of Split, Croatia, and his countless nieces and nephews.
There will be an open-casket vigil on Friday, February 15th, at 7:00 PM and the Funeral Mass will be on Saturday, February 16th, at 1:00 PM, both at St. Gregory Catholic Church in San Mateo, California. Burial of ashes to follow this summer at his native cemetery of Lovrec, Croatia.
In lieu of flowers, the family would prefer donations to the Croatian Scholarship Fund 501c(3). Additional information can be found at: tributes.com/Sveto-Olujic
PAID OBITURY