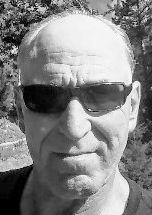 Steven J. Walls, born Dec. 2, 1959, died surrounded by his family Monday April 15, 2019, at the age of 59.
A lifelong resident of Redwood City, Steve had a generous spirit and a kind heart. No matter where life took him, Steve was present at every holiday and family gathering always making time to celebrate special occasions. And though he had many personal struggles, Steve would give all that he had, no matter how little, to care for his friends and family. Steve was often found doing yard work or lending a hand when needed, generously giving of his time.
Steve was a loving father, brother, uncle and friend who is survived by his daughter Sarah Walls; his siblings Kimberly (Doug) Sterling, Janet (Ken) Strain, Margaret Sims, Michael (Tiffany) Sims and Michele (Brian) Zeh; 13 nieces and nephews and one great niece; his uncle John (Kathy) Cattaneo; and many loving friends and family members. Steve was predeceased by his beloved mother Mary Cattaneo-Berryman.
Funeral is 1 p.m. June 1 in Shingle Springs.