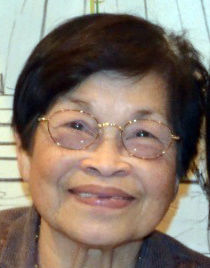 Felicidad C. Hamilton, age 80, of San Mateo, died Friday, Nov. 30, 2018, after a long beautiful life.
She was born in the Philippines on Jan. 18, 1938. She worked at the Benjamin Franklin Hotel, San Mateo, for 33 years.
Felicidad, known to her friends as "Fely," touched the lives of so many people filling them with joy and laughter. She loved to tend to her garden, going to church and taking her daily walks to downtown San Mateo to get her newspapers and lotto tickets. She was very active and loved being outdoors and spending time with family and friends. She loved good food, socializing and movies. "She had a wonderful smile that could light up a room. Her generous loving spirit will be greatly missed."
Felicidad is survived by her four children: Alfredo and Eleanor Woo, Araceli Baker and Michael Hamilton; seven grandchildren; and three great-grandchildren.
Visitation begins at 3 p.m. followed by a Rosary at 7 p.m. Sunday, Dec. 9, at Sneider & Sullivan & O'Connell's, San Mateo. Funeral Mass will be 10:30 a.m. Monday, Dec. 10, at St. Matthew Catholic Church, San Mateo. Interment at Skylawn Memorial Park, San Mateo.