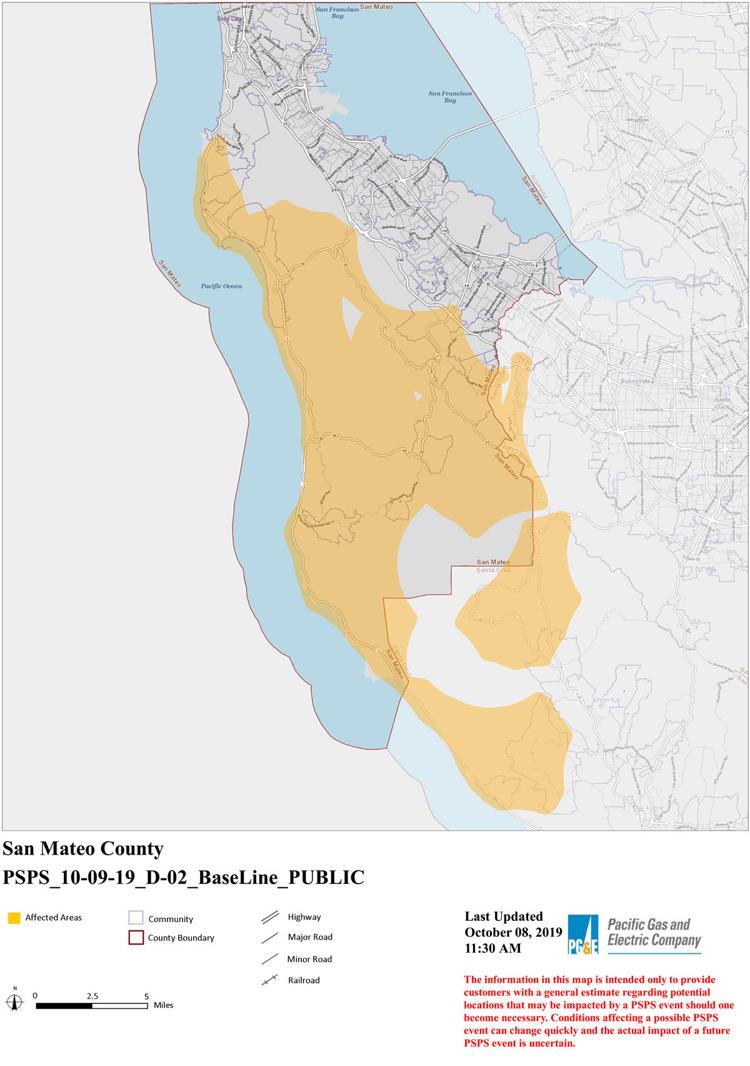 While most of San Mateo County was spared from power shutoffs, nearly 15,000 customers in portions of 18 cities and towns here were slated to go dark Wednesday morning in response to dangerous conditions and high fire risk, according to PG&E.
The risk of wildfire is due to a dry and windy weather forecast with winds expected to reach 60 mph to 70 mph in high elevations between Wednesday morning and Thursday afternoon. Pacific Gas and Electric wants to shut off power so its electric equipment doesn't start a wildfire as has happened in the past two years. 
"This is shaping up to be one of the most severe dry wind events we've seen in our territory in recent years," Michael Lewis, senior vice president for PG&E's electric operations, said in a statement.
The shutoffs, called "Public Safety Power Shutoffs" are happening in 34 counties throughout California, impacting more than 800,000 customers. It's the largest preventive shutoff in the state's history.
In San Mateo County, the shutoffs will occur almost entirely west of Interstate 280 and won't affect the most populated areas. But at least a portion of the following cities and communities will be affected: Half Moon Bay, El Granada, Woodside, Moss Beach, Montara, Portola Valley, Pescadero, La Honda, Redwood City, San Gregorio, Loma Mar, San Mateo, Menlo Park, Emerald Hills, Pacifica, Princeton, Davenport and Palo Alto. 
Customers who are not experiencing the weather event may still lose power if they share power lines with areas that are affected, said PG&E spokeswoman Mayra Tostado. 
Tostado said customers should be prepared for the shutoffs, which will occur in stages depending on weather conditions, to last up to seven days.
"Once the weather subsides we try to restore power within 24 to 48 hours, however, that's not always possible," Tostado said, adding that crews will complete inspections after the weather event and any damaged equipment will have to be repaired before power can be restored. "If there's no damage then the restoration will be quicker." 
Tostado said additional resources, including 45 helicopters and 700 personnel will be deployed throughout the areas experiencing shutoffs.
Customers have and will continue to be notified by PG&E if power will be shut off in their home and they can also enter their address on the utility company's website for updates. 
Tostado urged customers to charge phones, fill up gas tanks, get cash and an emergency kit before the extreme weather.
PG&E is setting up customer resource areas where those without power can charge electronic devices and access restrooms, bottled water and enjoy air conditioning. In San Mateo County, one will be erected at the Pasta Moon restaurant in Half Moon Bay, located at 845 Main St. 
Not far from Half Moon Bay, the Tom Lantos Tunnels will be shut down starting Wednesday at noon because of the power outage, said Caltrans spokesman Jeff Weiss. Power to the tunnel will be restored at noon on Thursday and if various safety inspections go according to plan, the tunnel should reopen several hours later. 
BART, Caltrain and SamTrans say the shutoffs will not affect service. 
Scott McLean, spokesman for the California Department of Forestry and Fire Protection, said additional resources are being sent to areas with a high fire risk. 
Tostado said public safety power shutoffs are only one of many steps the PG&E takes to reduce the risk of wildfire. Over the past two years, the utility company has increased safety clearances between power lines and vegetation, Tostado said, adding that crews will immediately respond to reports of unsafe conditions. PG&E is also replacing wood poles with steel ones and relying on stronger coated power lines to withstand the sorts of conditions expected Wednesday. 
San Mateo County is home to some high fire risk zones, according to Cal Fire maps. In those areas, PG&E installs cameras and weather stations, which monitor wind speed, temperature and humidity, Tostado said. There are seven such weather stations in San Mateo County, including in Half Moon Bay, La Honda, Portola Valley, San Mateo and Woodside.