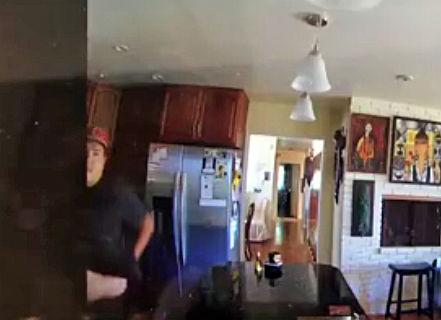 Law enforcement officials are seeking a residential burglary suspect who broke into a Millbrae home, stole valuables and unwittingly starred in a viral video.
An Huang Chen shared on Facebook security camera footage of the unidentified suspect as he casually entered her mother's property on Chadwick Court last week before rummaging through the home.
The 12-second video clearly displaying the suspect's face and body has been viewed more than 100,000 times since its posting Tuesday afternoon and law enforcement officials are hopeful it helps lead to an arrest.
"Someone out there will know this person," said Detective Sal Zuno, spokesman for the San Mateo County Sheriff's Office. "Someone will recognize this person."
Zuno said because deputies are still investigating the Monday, July 31, incident, he could not share details on the items stolen beyond describing them as "personal items of value."
Huang, a Hillsborough resident, though claimed on Facebook the items taken included antiques, jewelry and other "precious memories."
Zuno said the home surveillance video is not the only footage captured of the suspect, as a neighbor's camera also caught a portion of the act which he described as an isolated incident, because no other nearby homes were targeted.
The resident was not present when the suspect broke in, but a previously locked door was found ajar while she returned home with her caretaker, compelling them to call police.
After assuring the suspect had left the property, police and the resident toured the home to find the house ransacked, according to Zuno, and belongings missing.
Huan posted the video in hopes someone would identify the subject and ultimately save her mother's neighbors from becoming victims.
"We just don't want any of our friends to suffer the same fate," she said on the Facebook post that has racked up more than 1,000 shares and 100 comments.
Zuno said the resident did everything they could to protect themselves, but could not prevent the crime.
"In this case, the victim locked her doors and she left. One expects privacy and to be respected, but unfortunately that is not always the case," he said.
To prevent a similar crime, Zuno said home surveillance equipment is tremendously useful, as well as getting to know neighbors who can help establish a neighborhood watch network.
"There are so many things people can do that are not expensive," said Zuno, noting motion sensors, alarm systems and wireless detectors are other accessible forms of beefing up home security systems.
He added such equipment should be left in the open as it can be a useful deterrent for criminals.
"Most suspects don't want to be caught and they don't want to be identified," he said. "They want to get some things of value without being seen."
Generally, any recording device designed to enhance home security can be a helpful tool for investigators in the case of a similar crime, said Zuno.
"Anything that will deter or distract a suspect in the home helps," he said. "Especially when you catch them off guard."
While investigators continue to work the case, Zuno said he hopes the video helps bring the suspect to justice.
"We are hoping someone out there will recognize this person and reach out to us," he said.
The San Mateo County Sheriff's Office, which provides law enforcement services to Millbrae, can be reached at (650) 216-767. The anonymous tip line is (800) 547-2700. Go to facebook.com/ahchen/videos/10211635843385461 to see the video.