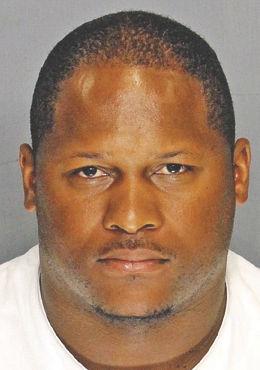 More than three years after a former San Mateo police officer was arrested outside his Stockton home in 2016 on accusations he sexually assaulted five women while he was on duty, he is set to see his fate determined in the coming weeks now that his jury trial is underway.
Now 35 years old, Noah Winchester was 31 years old when he was charged with 22 felonies for on-duty sexual assaults occurring in 2013 and 2015. In the some three years that have passed, Winchester has had two attorneys represent him, has seen seven jury trial dates set and has had three charges dropped after the credibility of one of the alleged victims was called into question.
After years of being held in jails outside the county, Winchester, in custody on $3.1 million bail, has been transported back to San Mateo County so he is able to attend the trial, according to San Mateo County District Attorney Steve Wagstaffe.
Appointed to Winchester's case by the county's private defender program, attorney Paul DeMeester took over Winchester's case from attorney Michael Rains nearly two years ago and said he is ready to take on whatever evidence is brought on by the prosecution after months of preparation. Opening statements for Winchester's trial could begin as early as next week after jury selection is completed, and the trial is expected to last at least three weeks, said Wagstaffe.
Winchester could face life behind bars if convicted of multiple felonies alleging he sexually assaulted four women between 2013 and 2015. He was employed by the San Mateo Police Department when he allegedly raped three women in San Mateo in 2015 and was employed by the Los Rios Community College Police Department when he reportedly abused one victim in Sacramento in 2013, according to prosecutors previously.
Several of the victims were also kidnapped and threatened, with some indicating they feared reporting the assaults because Winchester was a police officer, according to prosecutors.
Though another Sacramento woman's account had initially been included in the charges against Winchester, testimony she has since given in an unrelated Solano County court case called her credibility into question, Wagstaffe said previously.
In the days since Winchester's trial began Monday, Judge Lisa Novak granted some of Deputy District Attorney Alpana Samant's motions to introduce Winchester's internet searches days prior to the alleged assaults as evidence in the trial. Including searches related to rape, condoms, the forensic analysis of condoms and whether DNA could be left behind on condoms, the searches Winchester allegedly conducted on the Internet also included inquiries about polygraphs, which were excluded by Novak as evidence, according to prosecutors.
But Novak denied a motion Samant made to introduce the testimony of another woman who is not included among the alleged victims and who alleged she was strip-searched by Winchester in 2009 while he worked as an officer at Los Rios Community College Police Department. Novak ruled the testimony would involve an undue consumption of time and DeMeester allegedly advised Novak that the alleged victims are lying and the conduct they described never happened, according to prosecutors.
According to Samant's motion, the woman said she was approached by two police officers June 19, 2009, and told one of them she was on probation when he allegedly asked her. Police dispatch records corroborate Winchester noticed the woman drinking alcoholic beverages with a male friend at the light rail station in Sacramento City College, according to the motion.
In a 2016 statement, the woman said Winchester took her to the back of his patrol vehicle and said he would take her to jail before asking to see her private parts. She allegedly asked him if he would let her go if she did it, and he said yes, so she lifted her skirt and pulled her underwear to the side. He let her out of the car and drove off and did not write her a ticket, according to the motion.
In the dispatch record and a report taken by Winchester, the woman's belligerent behavior allegedly caused Winchester to place her in the backseat of his patrol vehicle. He said he spoke with the woman's friend and heard loud, banging noises from inside the vehicle, which led him to handcuff her and secure the patrol door, according to the motion.
The woman's description of Winchester putting her in the back of his patrol car and looking at her private parts under the guise of conducting a search is reminiscent of several of the alleged victim's experiences, noted Samant in the motion.
DeMeester declined to comment in detail about the evidence to be presented in the trial, noting he didn't want to highlight specific pieces of evidence before jurors get a chance to review it. But he said he is prepared for whatever evidence is presented.
"I'm comfortable with what they're throwing at us and ready to tackle it and explain it and confront it," he said.
DeMeester also acknowledged cases involving sexual assault, allegations against law enforcement officers and the media exposure can make jury selection more time-consuming given the sensitivity about those topics.
Though Wagstaffe understood the reasons why Winchester's case has taken so long to get to trial, he acknowledged that more than three years is a long time to wait for victims to have a chance at justice.
"When a sexual assault case takes years to get there, we're disappointed," he said. "Any time you prosecute somebody who was a cop and committed serious violent crimes while on duty, that's a very serious case."