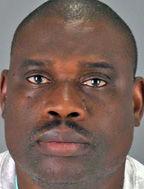 A Tracy man in custody for allegedly raping an unconscious woman he picked up at a San Mateo bar while working as a Lyft driver is facing life in prison after he was charged with three felonies Monday, according to the San Mateo County District Attorney's Office.
Tonye Kolokolo, 46, faced charges of felony rape, kidnapping and having sexual intercourse with an unconscious woman when he appeared in court for the first time after the incident occurring in the early-morning hours of Saturday, Aug. 10. Kolokolo allegedly did not enter a plea to his charges and the county's private defender program was appointed to his case, according to prosecutors.
Kolokolo is believed to have picked up a 25-year-old woman and her friend from the Swingin' Door bar in San Mateo just after midnight after the woman, who was allegedly intoxicated at the time, ordered a ride through the Lyft ride-hailing app. The woman's friend was allegedly dropped off in South San Francisco and the woman is said to have passed out in the backseat of the vehicle sometime after being picked up by Kolokolo, according to San Bruno police and prosecutors.
Kolokolo allegedly took the woman without her request or permission, to his home in Tracy, where he allegedly had nonconsensual sex with her, according to police.
The alleged victim has no memory of the alleged assault before waking up in Kolokolo's bed. He allegedly drove her back to her home in San Bruno, where she lives with her boyfriend. She allegedly immediately told her boyfriend, who had been out with her the night before but had gone home earlier because he had a shift at work, and the pair reported the incident to police, according to prosecutors.
Kolokolo was allegedly arrested shortly thereafter and remains in custody on $500,000 bail. He is next expected to appear in court Aug. 19 for appearance of a designated attorney, according to prosecutors.