After a week of reports of pipe bombs targeting politicians and well-known figures on the East Coast, a new report of a suspicious package addressed to California billionaire and environmental activist Tom Steyer and intercepted at a Burlingame postal facility Friday hit closer to home for Bay Area residents.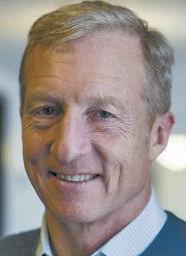 When the report about a suspicious package at the U.S. Postal Service's Burlingame priority mail annex was made Friday morning, some 40 postal carriers were already on the street making deliveries, with some 25 employees processing mail at the facility, said postal spokesman Augustine Ruiz. The report came the same day the FBI announced the arrest of Florida resident Cesar Sayoc in connection with their investigation into suspicious packages reported earlier in the week.
Ruiz said employees at the facility when the report was made were told to leave everything in the building and evacuate as soon as possible so agents from the lead agency, the U.S. Postal Inspection Service, could investigate. Officials from the FBI, Burlingame Police Department and the San Mateo County Sheriff's Office also responded to the facility at 1625 Rollins Road, where Ruiz said automated equipment designed to process mailed packages weighing between 5 and 20 pounds is housed.
Though he couldn't comment on the reported incident or the ongoing investigation, Ruiz said the U.S. Postal Service, or USPS, has been putting all of its employees on high alert in the past week as reports emerged about suspicious packages mailed to recipients on the East Coast.
"The only concern we have is isolating a suspicious package, putting our employees on high alert and making sure they're safe, making sure they're evacuating and letting the authorities take over," he said. "I feel that [the employees] are glad they were kept out of harm's way and they were safe."
According to Ruiz, USPS employees have been shown visuals of what a suspicious package might look like in the past week and informed about the safety protocol for reporting one several times a day to ensure employees at postal facilities who arrive at different times in the day have received the information.
Federal and local authorities are also investigating a report of a suspicious package discovered at a Sacramento mail facility by a postal employee Friday and destined for U.S. Sen. Kamala Harris' Sacramento district office, according to a statement from Harris' spokeswoman Lily Adams. No one was injured in the discovery of either package, as was the case for the dozen of other suspicious packages containing explosives targeting outspoken Trump opponents discovered in several other East Coast locations this week. Among those who the packages were addressed to were CNN, former secretary of state Hillary Clinton and former President Barack Obama and actor Robert De Niro, among others.
A spokesman for Steyer confirmed that the package intercepted at the Burlingame mail facility was addressed to the San Francisco resident.
Founder of the investment firm Farallon Capital, Steyer has advocated for progressive outcomes on issues like climate change, health care, immigration, inequality and criminal justice through NextGen America, a nonprofit grassroots advocacy organization he founded. In 2017, Steyer launched the Need to Impeach campaign in an effort to demand congressional leaders hold President Donald Trump accountable, according to Steyer's website.
With members of the U.S. Postal Inspection Service based in Richmond, San Francisco and San Jose, postal investigators are on call 24 hours a day, seven days a week, said Ruiz, who added they usually arrive within minutes of a report. He said employees are instructed not to touch packages once they deem them to be suspicious, alert others to stay away from it and tell management, who calls the inspection service and evacuates the premises when reports are made.
He said employees evacuated from the facility were given the option of going home or continuing their work at USPS' San Francisco location for the rest of the day. He said work at the Burlingame facility picks up when mail arrives around 3 p.m. each day and expected operations at the facility to begin again later in the day on Friday.
In situations where suspicious packages are detected, Ruiz said USPS' priority is always the safety of its employees.
"When something like this happens, the first thing we want to make sure is they're OK physically, emotionally, mentally," he said.