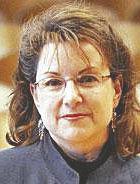 A San Mateo County prosecutor received a public reproval after a State Bar trial concluded last week that she made an untrue statement to a potential witness.
Deputy District Attorney Melissa McKowan stipulated to one count of violating the business and professions code while prosecuting a high-profile child molestation case in 2013. William Ayres, a once prominent child psychologist, was sentenced for molesting numerous male patients ages 9 to 13 between 1988 and 1996. McKowan eventually helped put Ayres behind bars where he died last year.
But before his sentence the controversial case included a mistrial after a jury deadlocked, followed by Ayres' spending a stint at Napa State Hospital while reportedly exaggerating dementia. The State Bar reviewed incidents that occurred during Ayres' retrial after victim's advocate Victoria Balfour reported concerns.
On Friday, Aug. 11, the State Bar filed a settlement that included McKowan acknowledging a 2013 email to parents of one of Ayres' alleged victims was not completely true. McKowan wrote to a potential witness in an effort to encourage them to cooperate and testify, according to the settlement.
At the time, Balfour had made complaints regarding McKowan's conduct to the San Mateo County District Attorney. There was also "considerable negative publicity" about the trial on various blog postings that included criticism of prosecutors, according to the settlement.
In the email to the parents, McKowan said she wished to "dispel" impressions about her that were made from "unreliable sources" and "bloggers." She also wrote that every agency looking into prior investigations had found previous allegations set forth by Balfour to be entirely false. But that statement wasn't true, leading the State Bar to classify it as a misrepresentation, not intentional dishonesty, according to the settlement.
McKowan's defense attorney Paul DeMeester said his client admitted her statement was subjective, but described her as an empathetic professional dedicated to her job.
"She was trying to reach out to a victim's family to get those folks to cooperate and in reaching out, talking about ancillary issues related to that, she made a hyperbolic statement," DeMeester said. "It happened years ago, it's over and she can concentrate on the work that she's continuing to do, which is be a top-notch prosecutor."
As part of the State Bar's orders, McKowan is prohibited from commenting on social media or blog posts about the Ayres case.
The settlement also notes McKowan acknowledged in a prior State Bar case against her that she lied to the mother of one of Ayres' alleged victims by stating she had contacted a potential witness and hadn't heard back. McKowan later admitted she had not contacted the witness, according to the settlement. 
DeMeester noted McKowan's critics unfairly blamed the prosecutor for a hung jury — which occurred when the jury deadlocked 11-1 in favor of conviction. 
Balfour, however, said she was fueled to contact the State Bar after she became concerned the District Attorney's Office did not respond to false statements McKowan made to families of Ayres' victim on a public blog.
Balfour, a New York resident who's been credited for shedding light on Ayres' crimes after a victim confided in her, has been very involved in the case even after his death.
"This all could have been avoided seven years ago had the DA not ignored my complaints. This is about victims' rights and having the victims be treated with respect. It shouldn't have to be this hard to get the DA's office to be held accountable for its actions," Balfour said in an email.
District Attorney Steve Wagstaffe said the matter was initially handled internally and it wasn't appropriate for him to comment on the State Bar case.
DeMeester said he'd hoped the State Bar wouldn't have pursued the matter, but is pleased it settled as McKowan is a professional committed "to prosecuting people who commit crimes."
Twitter: @samantha_weigel