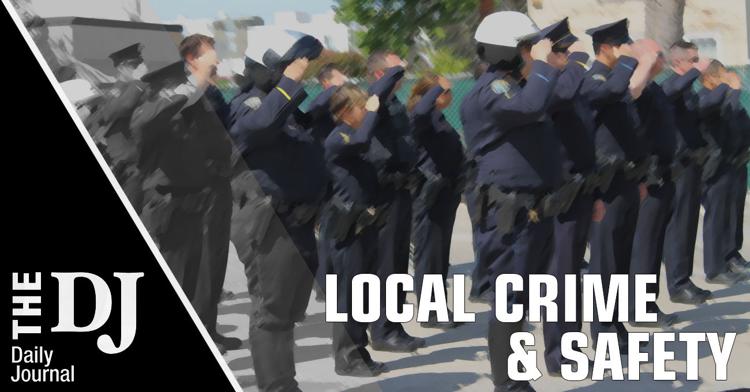 Six San Mateo residents identified in arrests made early Wednesday are facing prison terms and millions of dollars in fines on a range of charges including possession with intent to distribute 500 grams of substances containing methamphetamine and conspiracy to distribute the drug, according to a press release from Acting U.S. Attorney Alex G. Tse's Office, Northern District of California.
In two of four indictments unsealed Thursday morning, Ricardo Sanchez, Jesus Dario Gutierrez-Ramirez, Emmanuel Gonzalez Sanchez, Luis Ramon Zamora Angulo were accused of working in two separate conspiracies to distribute methamphetamine, according to the release.
Alfredo Angel Enciso Maldonado and Edwin Alejandro Cervantes Sanchez were also named in two other single-count indictments charging Maldonado, 37, with possession with intent to distribute 50 grams or more of a substance containing methamphetamine on May 17 and Edwin Alejandro Cervantes Sanchez with the same charge related to a May 12 incident, according to the release.
At around 6 a.m. Wednesday, San Mateo police officers assisted other agencies in executing search and arrest warrants at several locations throughout San Mateo as part of a multi-jurisdictional criminal investigation, according to a San Mateo Police Department press release. The department reported use of devices capable of producing sounds resembling explosives and aimed at distracting individuals, and confirmed no shots were fired.
Multiple news sources reported the arrests occurred at a taqueria on North Ellsworth Avenue and at various nearby apartment buildings in San Mateo.
Ricardo Sanchez and Gutierrez-Ramirez, both 28 years old, are accused of conspiring with other defendants to distribute more than 500 grams of a mixture containing methamphetamine between Aug. 1 and May 29. They face life prison sentences if convicted, according to the U.S. Attorney's release.
Emmanuel Gonzalez Sanchez, 24, and Angulo, 41, are facing charges an alleged conspiracy to distribute methamphetamine. In addition, Angulo is facing two substantive counts of possessing with intent to distribute and distributing methamphetamine, according to the U.S. Attorney's release.
With the exception of Angulo, five defendants appeared before U.S. Magistrate Judge Maria-Elena James Thursday and are next expected to appear in court Friday for further proceedings. Assistant U.S. Attorney Sheila Armbrust will prosecute the case. The group also faces fines of up to $10 million, according to the U.S. Attorney's release.
Among the agencies who contributed to the investigation are the Bureau of Alcohol, Tobacco, Firearms and Explosives, the Drug Enforcement Administration, the San Mateo Police Department, the San Mateo County Sheriff's Office and a task force comprised of federal, state and local law enforcement agencies called the Organized Crime Drug Enforcement Task Force, according to the U.S. Attorney's release.
Though San Mateo police Sgt. Amanda Von Glahn could not provide additional details on the arrests Thursday, she extended her gratitude to the community.
"We wanted to thank our community for their support and patience in this matter," she said.