Though Rich King's memories of his days as a helicopter pilot in the Vietnam War are close to 50 years old, he's still able to recall the full-body coordination required to operate the hovering aircraft.
Currently a docent at the Hiller Aviation Museum in San Carlos, the lifelong San Mateo resident remembers how a ride in a helicopter when he was in elementary school sparked his interest in flying them as a student at College of San Mateo and later as a pilot in the 101st Airborne Division of the U.S. Army. So when he got the opportunity to fly a fixed-wing plane just before he was deployed, he realized how much he enjoyed the challenge of maneuvering the aircraft's pedals, controls and throttle, all while keeping an eye on where it's headed.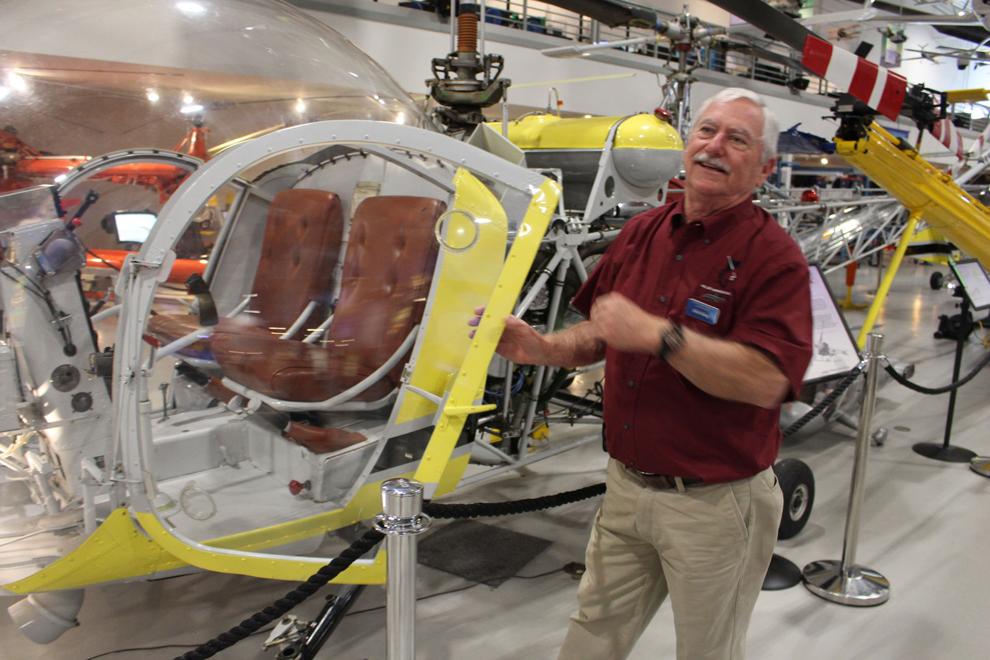 "It wasn't as fun [flying a plane], it was boring actually because in a helicopter, we have everything working, your hands, your feet, you have five different controls working constantly," he said.
Having spent a year in flight school before he was deployed near the demilitarized zone in Vietnam in 1970, King learned quickly flying a helicopter for military missions was not as straightforward as he might have initially thought. He remembers learning to operate multiple controls and keeping tabs on the speed of his helicopter while his instructor tapped on his helmet to bring his attention to what's in front of the aircraft.
"You can get fixated on that, and it's like, 'Well, what if an airplane's flying in front of you? Well, get your head out of the cockpit," King remembers his instructor saying.
At age 22, King was part of a combat assault helicopter battalion, bringing supplies to nearby bases and transporting soldiers in and out of missions. Noting most of the missions he went on were defensive, he said he and his crew navigated through open fire and his unit lost two men in his yearlong tour in Vietnam.
King remembers listening to his crew chief, who sat in the back of the helicopter and let the pilots know if they were clear to take off over radio, as he was about to take off and then suddenly not hearing anything from him. Believing he was dead, King learned a round had gone through the radio cord when the crew chief held up one frazzled end. On another occasion, he remembers landing his helicopter and looking up to see a hole in the top of the aircraft he didn't remember seeing when he took off. Upon finding another hole underneath on the bottom of the helicopter, King later learned his hand and legs had missed a round's path by inches.
"I didn't know until after the flight that a round had come up between my legs," he said. "I had flown all day and didn't know."
Having retired from his work as a manager of a roofing and sheet metal company in San Mateo in 2006, King said he's able to reunite with the others in his unit every two years or so. But he said the 101st Airborne Division's long-standing connection with the city of San Mateo has been a source of support for him over the years.
Having learned San Mateo had adopted a unit within the division after he returned from Vietnam in 1971, King was excited to join a parade commemorating the unit's return from war in 1972 to meet other helicopter pilots and those who had been through similar experiences.
He remembers feeling self-conscious about wearing his military uniform when he met his family at San Francisco International Airport May 29, 1971, just days after he left Vietnam, and the challenge of adjusting to such an abrupt shift from war to civilian life.
"To come home out of a combat situation and then dumped into the civilian world was a little hard for me," he said. "It was great when the 101st came to San Mateo, I was just charged. The reunion was a big help."
King said he is looking forward to Operation Eagle Visit, a weekend of activities aimed at commemorating the city's 50-year relationship with the 101st Airborne Division planned for March 23-25, as well as the flood of memories from another chapter of his life. He said it's meant a lot to him that the city extended a heartfelt welcome to those who had served in Vietnam at a time when public reception of the war and its veterans wasn't always warm.
"I'm really happy with San Mateo," he said. "San Mateo was there and that was my hometown."
Operation Eagle Visit will take place in various locations in San Mateo March 23-25. Visit cityofsanmateo.org/101st for more information.