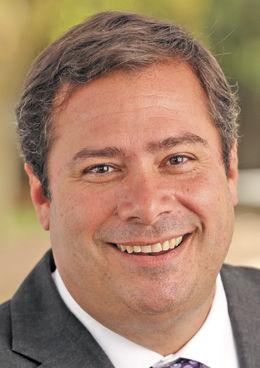 Weeks after racist, anti-Semitic graffiti was found tagged at the Burlingame High School campus, San Mateo Union High School District officials are resurrecting a proposal to install security cameras.
The district Board of Trustees is slated Thursday, Sept. 19, to discuss a proposal to establish a surveillance camera system spanning all campuses with hopes of cracking down on misbehavior.
Officials first raised the $3 million proposal in February, but it now returns in the wake of unidentified suspects scrawling offensive graffiti across the Burlingame High School quad earlier this month.
For his part, board President Greg Land said he supports the system's installation as officials look to prevent any similar property destruction while generally enhancing campus safety.
"I'm glad it's coming up and it is a perfect example of what we need," said Land.
No final decision is slated to be made at the meeting, but officials could authorize moving ahead with testing and designing the systems.
Grounds crews at Burlingame High School discovered spray-painted hate speech early Thursday, Sept. 5, which was tagged overnight on windows and walls. No arrests have been made, said Burlingame police Lt. Laura Terada, who suggested investigators are still working leads on the case.
While the campus does feature a few antiquated security cameras, no surveillance of the most recent incidents exists, officials have said. The incident is not isolated, as Terada said previously a Burlingame High School student's locker was reported in April to have had anti-Semitic messages scrawled across it as well.
Trustees first weighed a proposal for an improved security system in February, when officials sought more information about the sort of devices which could be installed, as well as the cost.
Officials initially framed the discussion as an initiative which could help keep students safe from the threat of violence, as well help investigations into misbehavior.
Land, who works as a principal in Los Altos, said he has always been an advocate for the presence of cameras as a deterrent to vandalism as well as a mechanism for identifying those acting inappropriately. The cameras would be most useful in helping find those who vandalize campuses overnight, said Land, as was the case in Burlingame.
He balanced his advocacy for the installation by recognizing those who fear the devices could give rise to concerns about privacy. But he expressed confidence the technology could be used responsibly, so as to not intrude on the rights of students and teachers.
Looking ahead, Land said he maintained questions about the costs associated with installing the cameras at the district's six comprehensive campuses. Officials identified about $800,000 of the projected $3 million needed to purchase and install the systems.
Land said he thinks it is possible the district could afford the purchase and installation with existing funds, but if a bond measure is necessary to finance the project, he could support that as well.
Officials have been examining the feasibility of floating a bond measure over the past year, and in June received polling information suggesting appears about 60% of voters would favor such a proposal — 5% more than the threshold needed for the measure to pass.
Officials have the option of potentially putting the bond on the spring or fall ballot next year and choosing between a $200 million or $400 million bond, both of which appeared to gather the requisite support to pass, according to the poll.
The measure could be needed to improve classrooms and learning spaces across the district, update campus facilities and address safety issues, officials have said.
Should it be determined additional bond money is needed to finance the cameras, Land said he would support the measure. But more broadly, Land said he favors installing the improved surveillance system.
"I think we need this," he said.
The San Mateo Union High School District Board of Trustees meets 7 p.m., in the district office, 650 N. Delaware St., San Mateo.