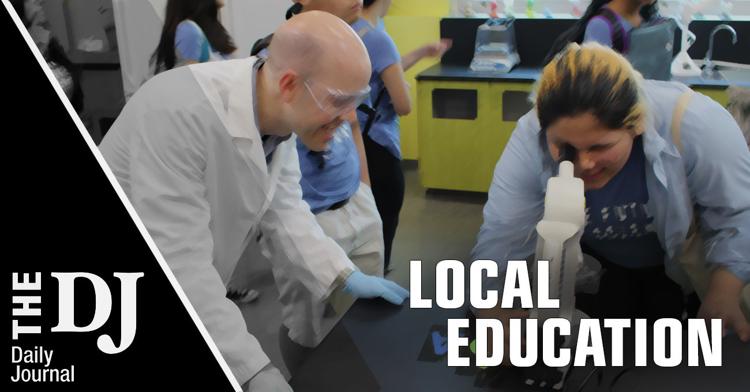 As school security threats rise in national consciousness alongside a recent rash of alarming shootings at or near local campuses, county educators are scrutinizing student safety policies.
San Mateo Union High and Belmont-Redwood Shores Elementary school districts are considering installing video cameras at campuses during their upcoming board meetings, while the county superintendent is refining emergency response protocol.
The security enhancements arrive in the wake of recent shootings at or near campuses in Belmont and South San Francisco, and while neither incident was directly related to the school, officials felt compelled to take action.
Other officials not exposed so directly to the safety threats said they are interested in beefing up security protocol in recognition of the rise of national awareness to the threat of school gun violence.
Kevin Skelly, superintendent of the San Mateo Union High School District, said his board will consider spending $3 million to install security cameras at school campuses to discourage students from illegal activity or misbehavior.
"It is a deterrent for a lot of behavior if you know you are on camera," he said.
The high school district operates some cameras, but the proposal heading before officials would finance a more advanced and comprehensive system across all campuses. No final decision is slated to be made at the meeting.
Skelly said the board's discussion Thursday, Feb. 7, is spurred partially by memories of the mass school shooting in Parkland, Florida, last year. Survivors of the tragedy recently visited high schoolers in Burlingame to discuss gun violence prevention.
The high school board discussion will take place the same night as a Belmont-Redwood Shores Elementary School District meeting during which trustees will also examine installing video cameras.
Belmont-Redwood Shores district officials will discuss the surveillance systems, as well as improving exterior lighting and public address systems to assure they adequately function and cover campuses. No final decision is slated to be made at the meeting.
Beyond the upcoming board discussion, Belmont-Redwood Shores officials plan to convene a safety team of parents to discuss improvements for initiatives which could be implemented over the next few years, according to a district report.
District Superintendent Michael Milliken said a Coalition for Safe Schools report, which was crafted in conjunction with the county Office of Education, as well as a security commission report drafted following the Parkland tragedy will influence the board's discussion.
The discussion comes roughly one month after 17-year-old Mohammad Othman, of Redwood City, was shot and killed in front of Central Elementary School. While the Carlmont High School student's death is believed to be unrelated to the Central school community, the incident alarmed parents, students and teachers.
"Obviously the Jan. 7 incident for us sparked a renewed sense of urgency and we are making sure we are taking a broader perspective," said Milliken.
The larger context to which he refers is assuring campuses are safe even after students have gone home, said Milliken. Reports of the Othman shooting were received around 11 p.m., long after students left the campus.
A similar violent incident raised fears in South San Francisco recently when a man was shot near Buri Buri Elementary and Alta Loma Middle schools, which resulted in students being placed under "secure campus" status, meaning that doors were locked and entrance and exit from the schools were temporarily restricted. The incident was unrelated to the school community, and the alleged shooter Miles Joseph Pasion Seegmiller, 20, of South San Francisco, was arrested shortly afterward.
School board President John Baker reflected on the incident and said he was proud of the way school officials responded promptly and thoroughly to assure student safety was preserved.
"Everyone gets the importance of keeping our kids safe," said Baker, who lauded the collaborative and rapid response.
He suggested officials were capable of coordinating such a response due largely to the frequent training offered to teachers, administrators and school workers sponsored by the county Office of Education.
County education officials established the Big Five protocol, which is a centralized emergency response system followed by school districts and cities throughout the region in cases of emergency or natural disaster.
County Superintendent Nancy Magee said her office has worked hard to help local school districts, law enforcement agencies, behavioral health organizations, nonprofits and more to standardize the system.
County officials frequently lead trainings, but Magee said more work still needs to be done to improve communication and build the system's sophistication.
Magee said she is hopeful enhanced information sharing between school systems and emergency responders as well as city and county officials can lead to further advancements in the policy.
Looking ahead, she also said better student threat assessments and more mental health support can be useful initiatives in assuring local campuses are kept safe, while also developing responses for the rising threat of wildfire or other natural disasters.
For his part, Milliken said he appreciates the leadership offered by county officials and law enforcement.
"It is not simply a matter of sensors and security cameras," he said. "It has to be one of making sure that we are tapping the different agencies that relate to community safety and assuring we are approaching it in a thoughtful manner."
For Magee, she said a key to further improving the regional responses will be ongoing discussion and communication among all the local system systems and agencies committed to establishing secure school campuses.
"If you stop working on emergency preparedness, you are dead in the water," she said.