After nearly 50 years of selling bicycles of all shapes and sizes in downtown San Mateo, Talbot's Cyclery at 415 S. B St. is pumping the brakes on its business, announcing on Monday plans to close its doors in the coming months to give owners Gary and Terri Moore a chance to retire.
Though employees at the retail location known for its selection of children's bicycles and specialized bicycle gear are in the process of marking items for one last sale, Keith Schumacker, general manager of Talbot's Toyland next door at 445 S. B St., confirmed there are no plans to close the toy store and that they hope to be a part of the community for years to come.
Having monitored sporting trends and sold bicycles to customers for decades, Gary Moore said he and his wife spent about a year mulling over their decision to retire. With one of his sons committed to a career in technology and another living in Australia, Gary Moore didn't see a way to pass the torch within his family. Now that both of them have entered their 60s, Gary Moore said they are hoping to turn their focus on spending time with their grandchildren, taking care of their chickens and bees, traveling and, of course — getting in a few long rides.
"As time goes on, eventually you have to retire," he said. "It's like getting to the end of a good book."
Talbot's Toyland was started in 1953 when Gary Moore's grandfather opened a toy store in downtown San Mateo, he explained, noting the business expanded to include a wide selection of bicycles in the early 1970s in response to an uptick in demand. Through the years, the store has offered mountain bicycles, road bicycles and, more recently, electric bicycles in keeping with the rise in popularity of those bicycles among enthusiasts, said Gary Moore.
But even with the shifting demand over the decades, Gary Moore said the business has always maintained its focus on providing a wide array of bicycles for families. He said it's not uncommon for them to serve customers from San Francisco and Palo Alto and in search of children's bicycles, noting many stores in the area cater to those who are interested in specialty bicycles.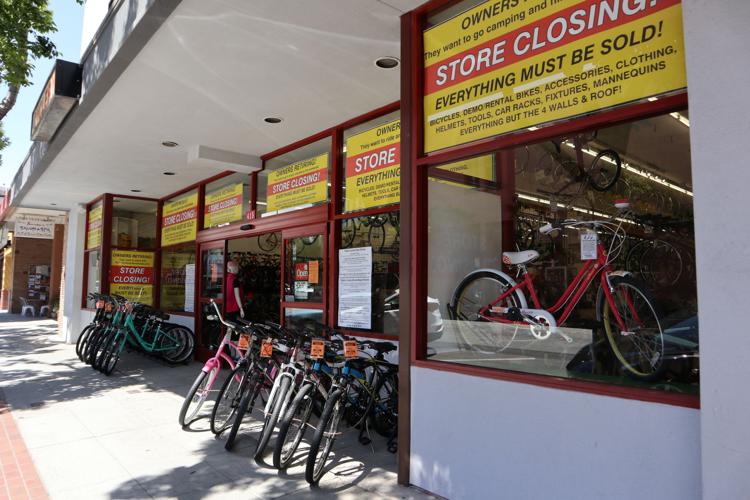 "We never lost our core which has been with the children's market," he said. "We've always maintained one of the biggest and best selections of kids' bikes."
Though the store will have to start ramping down the services it provides with bicycles sold there, Gary Moore said the business has been a full-service bicycle shop from its inception and began offering bicycle rentals some 10 years ago.
Acknowledging repair services are increasingly scarce, Gary Moore said the store has more recently received requests from clients asking for help with repairs of almost anything with wheels, including strollers and walkers. For those looking for a place to repair their bicycles after Talbot's Cyclery closes, Gary Moore said the store will likely refer customers to Cognition Cyclery and Cyclepath in San Mateo, Summit Bicycles in Burlingame and California Sports & Cyclery in Belmont, all of which have repair shops.
"By us closing, it really leaves a void there," he said. "For a lot of services like that, they've just gone away."
Though the Moores are looking forward to having more free time in the coming weeks, Gary Moore said they will miss working with their staff, who have been sought after by other Bay Area bicycle stores. He also noted the challenge of hiring employees for businesses like his given the region's increasingly high cost of living.
"It's just difficult in a retail environment to provide enough for a lifestyle and to be able to live in the area," he said.
Gary Moore said he and his brother Steve Moore made a decision some three years ago to separate the toy store and cyclery so each could focus on the business they knew more about and also to afford them the flexibility to make their own decisions on the future of the businesses.
Having just installed a 14-foot-long dinosaur in Talbot's Toyland, Schumacker said the owners and staff of the toy store intend to continue carrying on the tradition of their business and have no plans to wind down.
"We look forward to being a member of the community for many years to come," Schumacker said.
Because Gary and Terri Moore own the building where the bicycle shop operates, Gary Moore said it doesn't have to be vacated by a specific date but he is targeting July 1 as a tentative date to shutter the business. With an ongoing sale and many goodbyes to say, Gary Moore expected the next few weeks to be packed, but he acknowledged the couple is also looking forward to getting out on the weekends and enjoying retirement.
"All of a sudden you look at the calendar or the clock … and [you] think … it's the time to do it," he said.