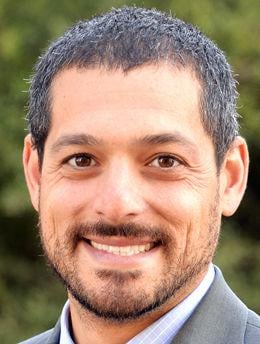 After enormous wildfires burned thousands of acres in southern San Mateo County, officials have begun discussions around remedying fire hazards caused by climate change, population increase in woodlands and a century of strong fire suppression efforts. 
"Now, we're past education. We need to move to enforcement and people need to learn that it does burn out here. It's not the asbestos county anymore," said Fire Chief Richard Sampson with the California Department of Foresty and Fire Protection, San Mateo-Santa Cruz Unit, referencing a title given to the county known for experiencing numerous smaller fires. 
Sampson, along with Kellyx Nelson, the executive director of the San Mateo Resource Conservation District, and San Mateo County Parks Director Nicholas Calderon, underlined the importance of quickly supporting and expanding science-based fire-mitigation plans. During the remote meeting Wednesday, Sampson warned the Board of Supervisors that the once considered "500-year fire" is becoming a new normal for drier California. 
"It took us 100 years to get here. It's going to take us a lot more than one year or 10 years to get out of this and create the situation that we can save people again," said Sampson. 
A list of priorities laid out by Supervisor Don Horsley include developing a vegetation management ordinance, identifying and maintaining temporary refuge areas, identifying ongoing funding for various fire mitigation efforts, expanding the county's chipper program, ensuring fire coverage for at-risk residents, and creating a seasonal firefighter program. 
By using science-based wildland stewardship, experts aim to remove invasive or nonnative species of vegetation to restore forests to a healthy, biodiverse state. Sampson said removing various highly combustible trees including eucalyptus, douglas fir, gorse and pine trees is vital for mitigating a massive fire season in the future. 
Incentives are also needed to encourage property owners to remove the highly flammable species from their property, particularly around small roads used as evacuation routes and access points. The county has initiated a chipper program, paid for with Measure K half-cent sales tax funds, which assists select neighborhoods with creating a defensible space by chipping and discarding vegetation cut and set along the road by residents. 
"It was a bit of a chore to get one eucalyptus tree to get cut. Now we have people coming out of the woodwork saying you got to cut down eucalyptus trees and they see what we were talking about 30 years ago," said Sampson, noting the trees were brought into the region during the early 1900s. 
Officials noted the program has been successful but requires substantial expansion to re-treat communities with rapid regrowth and begin chipping in additional at-risk areas. Chipping can also be used for discarding hazard trees burned during the wildfires, said Nelson. 
Echoing Sampson, Nelson said protective sentiment for the trees and other species has shifted following the fires, adding that eucalyptus trees are considered a weed, devastating to habitats and the focus of eradication. And while the trees are often home to monarch butterflies, Nelson compared the habitat to feeding children fast food. 
"It is true McDonald's is food but it's not the food you want for your kids. It is true that eucalyptus can be used but that doesn't mean that they're the best thing to have," said Nelson. 
Calderon and Nelson both emphasized the importance of good stewardship of the land in creating healthy forests with substantial biodiversity, a mix of old and young vegetation and proper thinning. Nelson said conservation efforts have moved away from "fencing" wildlands off to focusing on proper land management such as vegetation thinning and removing invasive and non-native species.
More than 900 acres of land in San Mateo County will be treated by RCD, 450 acres of which are within San Mateo County parks. Treatments will include prescribed burns and creating a fire break around La Honda, spanning over public and private lands. 
"A fire doesn't follow county boundaries so it makes sense to take a regional approach to collaborate," said Nelson, noting private partnerships will also be vital. 
In the parks department, Calderon said he plans to shift the department's thinking on land management projects from a one-year plan to a five-year plan. After taking inventory of the county parks and fuel loads, he plans to report back to the Board of Supervisors early next year detailing fire-mitigation projects prioritizes and budgeting. 
The proximity of wildlife and vegetation to county residents is also top of mind for Calderon and other experts. Throughout the county, dense communities live near and among dense fire fuel, requiring the department to center fire breaks and defensible space. When referencing the Wildland Urban Interface, a map of interaction points between municipalities and wildland, Supervisor Dave Pine noted alarm for the threat, suggesting a study session be held at a future date on how the board can assist in addressing the risk.  
Addressing community awareness of fire hazards, preparedness and county mitigation projects, Supervisor David Canepa pressed Calderon to engage in cross agency communication with local fire departments. Fire risks on San Bruno Mountain were top of mind for Canepa, which was near a five-alarm wildfire on South San Francisco's Sign Hill midday Friday. The parks department and Cal Fire officials had been collaborating on a project to remove hazardous gorse trees in the area which was slated to be complete within the next week. 
Calderon noted the department disseminates information through social media and other communication paths but also intends to eventually host educational trail tours of fire burned lands.