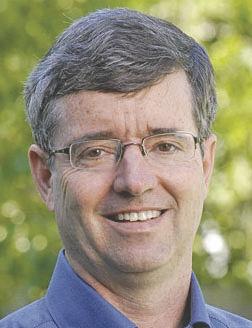 Extended monitoring is required before any change in shelter-in-place orders — and lessening such measures may result in a surge in demand on hospitals, the chief of San Mateo County Health said.
"It's not something that is managed week to week or in two-week increments," Louise Rogers said of shelter in place.
The public health measure is necessary to manage hospital capacity, Rogers said.
She spoke at the Board of Supervisors meeting Tuesday after Supervisor Dave Pine said residents frequently ask how health officers assess when to phase out shelter-in-place orders.
"When will it end?" Pine said. "The public is really eager to understand."
He said Wednesday that, "It's incumbent on the county, particularly with the shelter in place being extended, that we do our best to articulate when shelter-in-place would be scaled back or stopped."
The requirement is tough on people — and tougher without an idea of when the measure might end, Pine said.
Until a vaccine is available, Rogers said at the Board of Supervisors meeting, society has to manage the waves of the coronavirus.
Health officers in seven Bay Area jurisdictions on Tuesday extended a previous stay-at-home order through May 3 to preserve hospital capacity. The previous three-week order was set to expire on April 7. The earlier order has been effective in reducing the rate of coronavirus transmission but the measure is not enough, health officers said.
County Health spokesman Preston Merchant said in an email Wednesday that "public health officials are looking at data related to the spread of COVID-19, the growth or decline of cases and deaths locally, as well as data from our neighboring regions."
"At some future point — it's not possible at the moment to project when — the data will suggest that the spread of COVID-19 through community transmission is in retreat and loosening some of the restrictions may be warranted," Merchant said. "San Mateo County's health officer, and the other health officers of the Bay Area, will make a joint decision about modifying the shelter-in-place orders."
At the board meeting, San Mateo County Supervisor Don Horsley said residents ask him how many coronavirus tests have been done in San Mateo County.
Rogers said that 534 tests had been reported as of March 30, with 309 positive though that number increased Wednesday to 388.
Because tests are rationed for the high risk, health care workers and people with symptoms, Rogers recounted, the results are not a good measure of the prevalence of coronavirus in the community.
A health order last week requires reporting of negative test results as well as positive — data Rogers said will assist the county.
Ten deaths from the coronavirus have been reported in San Mateo County. All of the 10 deaths involved people 60 years and older. Two of the deaths were of people between the ages of 60 to 69. Two were between ages 70-79 and six were of people 80 years and older.