Gauging where the county stands on getting back to some sort of normalcy is a difficult task but community waste habits can act as an indicator of which direction residents are heading. 
Normally the San Carlos-based RethinkWaste facility would process around 500,000 tons of waste a year but operations at the plant dropped substantially after the first county shelter order was announced in March. With a major slowdown of construction and people working remotely, waste in the development and commercial sectors dwindled but waste from the residential sector remained high. 
"The residential material maintained very strong numbers because we're all working at home, if we're lucky to work," said Joe La Mariana, the executive director of RethinkWaste, the managing agency responsible for processing the solid waste of Peninsula residents and businesses. 
Tammy Del Bene, the administrative manager of San Mateo County Recology, the agency responsible for the collection of solid waste countywide, said after the shelter order the organization provided educational material to the public to help guide residents on which waste items should be disposed of into which color-coded cart. 
"On the residential side there's an increase in recycling which is great," she said. "We sent out a lot of educational information to help people sort their trash properly and to maximize the space in their bins by breaking down containers and folding cardboard boxes." 
La Mariana echoed Bene's praise for the community's effort to recycle but noted he would like to see solid waste from multi-family dwellings sorted better and for the community as a whole to properly dispose of lithium batteries which should be bagged and placed on top of black bins. 
"If those materials get inside carts and then get inside equipment they can start a major fire," said La Mariana. 
As residents remain sheltered, the collection of delivery packaging is a sign the public is spending money on goods, though also shows a reluctance to travel outside homes to do so. Nevertheless, La Mariana said the spending behaviors are a good sign. 
"We're a long way off from where we were before COVID. Our material is a good indicator of the health of the economy. Since May 4 we've seen an upward trajectory but nowhere near normal. But we have seen an increase," said La Mariana. "It's a good indicator we're starting to come back."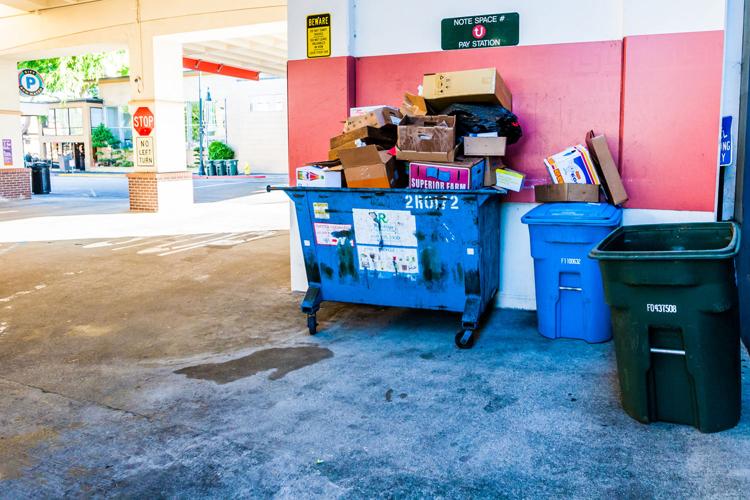 The collection of construction materials and debris is also a good indicator of economic recovery, said La Marina, who noted the collection of such materials restarted May 4 after many projects were slowed down or put on hold completely. 
The sector experiencing the least amount of growth thus far is the commercial industry with most employees working remotely resulting in fairly light waste collection. La Mariana said commercial collections were down close to 50% but the figure includes waste collected from multi-family dwellings as well. 
A silver lining of the shelter order for RethinkWaste has been the progress made on projects and facility upgrades. Mariana showed excitement for an Organic to Energy program which would take organic waste from the green bins or select restaurants and transform them into a liquid. Methane would then be extracted from the byproduct to be used as an energy source for four water treatment plants, Central Marin Sanitation Agency, Silicon Valley Clean Water, East Bay Municipal Utility District and South San Francisco Water Quality Control Plant. 
La Mariana said these facilities are high energy consumers and shifting to a environmentally friendly energy source is "the future." 
"We have everything installed but it's a little frustrating waiting for green waste and we can't do it from the residential waste," he said. "This is the way of the future, taking organically rich garbage and turning it into energy. We're the first in America."
La Mariana said the program should have enough waste collected in six to eight weeks once restaurants have managed to expand operations. The six-month pilot program would begin processing 50 to 75 tons of waste a day and could be expanded over time. 
The program is contingent on waste collected from local merchants now beginning to open after the release of a new county health order. Though La Mariana is eager to get the program up and running, he expressed contentment with the effort of the community to properly sort waste and remains optimistic of the direction the county is heading.