Aiming to rapidly reduce the number of residents experiencing homelessness in San Mateo County, officials may soon develop a navigation center which features private, COVID-resistant dorms that can be rapidly deployed. 
Through a partnership with Connect Shelters, a rehousing program launched by prefab developers Connect Homes, the county could provide temporary shelter to 150 to 200 residents, said Adam Ely, the director of project development. Constructed in 8-foot-by-40-foot metal containers, the units could be rapidly developed, shipped and assembled in six to nine months, he said. 
Each factory-built structure contains individually ventilated units, reducing the potential for spreading COVID-19 and can range from two-bedroom suites to smaller four-bedroom units. Ely said the county is considering following a similar plan as Mountain View, which is currently in development of its own Connect Shelter site that features the four-unit model with detached bathrooms. The Mountain View site will be operated by the nonprofit LifeMoves, an organization being considered to operate the San Mateo County site as well.  
Currently, the county plans to place 135 Connect Shelter modules at 1580 Maple St. taking the place of the soon-to-be demolished women's jail. County and Redwood City staff are in discussion around a land swap agreement to exchange the county's parcel with nearby city land at 1420 Maple St. that, if approved, would lead the Connect Shelter site plans to be moved. 
Following Redwood City Council's meeting Monday, Nov. 9, the county is on track to receive 2.2 acres of 1420 Maple St. in exchange for the county land and assistance with developing the Blomquist expansion of Maple Street over Redwood Creek. During the meeting, County Manager Mike Callagy detailed the county's goal of achieving "functional zero" homelessness, meaning experiencing homelessness would be rare, brief and never chronic. 
"We believe that we can get to a point, and the board has given us direction to head to that point, where we can create a bed and get someone off the street immediately and start getting them services for all that want it," said Callagy, noting some may not seek assistance.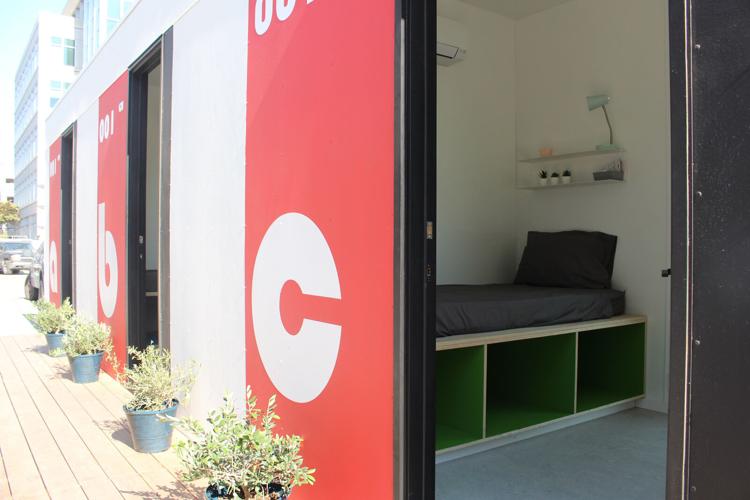 Like the greater Bay Area, the county has struggled with a growing homeless population and officials expect the crisis to be exacerbated by an economic downturn caused by COVID-19. Since being struck by the pandemic, the county has focused on hoteling unsheltered residents but doing so has cost the county nearly a million dollars a month, said Callagy, pushing officials to find more cost effective ways of rehousing residents. 
On Thursday, Nov. 5, the Board of Supervisors approved the purchase of the TownePlace Suites Hotel, for nearly $29.3 million, as part of the state funded Project Homekey program. With an additional hotel, the county would have 170 units to shelter residents either currently or at risk of experiencing homelessness. But a modern navigation center has been a county priority for years, particularly for supervisors Don Horsley and Carole Groom who have championed the efforts to find a permanent place for a shelter.  
Though the Connect Shelter site can function independently on generators and regularly replenished water tanks, the county intends to attach the units to upgraded infrastructure systems. Developing the site from start to finish would cost roughly $9 million, said Ely. The units alone would cost between $4 million to $5 million, about $80,000 for a four-unit module, or about $20,000 a unit, without an attached bathroom. Couples could also be accommodated in the four-bedroom model.   
"We know that we would have to upsize the electrical infrastructure to bring them on and that can be costly," said Ely. "It's an all hands-on-deck-approach in addressing homelessness to find as many viable ways to house people in a short turnaround." 
Gordon Stott, the co-founder of Connect Homes, said the rise of COVID-19 inspired the company to create a shelter prototype. Using the assembly line method perfected in luxury home development performed by the company in San Bernardino, the company can produce at least 80 structures per month. 
"We looked around and saw this COVID thing was hitting and thought maybe that would mean California would finally have to humanely deal with those living on its streets," said Stott, noting homeless service providers have praised the prototypes. 
The steel units have not been formally purchased but county and city officials, nonprofit administrators, Cal Fire representatives and leaders from other jurisdictions have toured a site stationed in Redwood City. 
(650) 344-5200 ext. 106