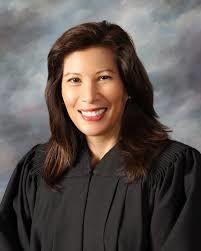 Ongoing efforts among San Mateo County officials to revamp pretrial detention practices for those who are arrested got a boost with a $6.2 million allocation from the Judicial Council of California to expand its pretrial pilot project, according to a press release from the Judicial Council.
Aimed at increasing the safe and efficient release of those awaiting trial and reduce the use of restrictive monitoring while also ensuring public safety and court appearances, the Judicial Council's support of 16 pretrial projects in courts across the state is also expected to expand use of risk assessment tools and assess any bias, according to the release.
Having organized a work group on pretrial detention reform, Chief Justice Tani Cantil-Sakauye hoped the effort would harness innovation from courts throughout the state to make the system more safe and fair for all.
"This is another example of action by the three branches of state government to address an issue of fairness and equal access to justice for all Californians," said Cantil-Sakauye in the release.
Having operated a pretrial services program since 2000, San Mateo County has formed a pretrial services working group including court officials and those from the San Mateo County Manager's Office, the San Mateo County Probation Department, the San Mateo County Sheriff's Office, the San Mateo County District Attorney's Office, San Mateo County Health's Behavioral Health and Recovery Services Division and the county's Private Defender Program, according to the Judicial Council.
With the additional funding, the county is expected to be able to expand pretrial assessment to everyone booked into and retained in jail custody within eight to 12 hours of booking, including a judge to decide whether someone in custody should be released within 16 to 24 hours of booking, according the Judicial Council.
Chief Probation Officer John Keene expressed enthusiasm for the support of the county's efforts to improve its pretrial services, noting the additional funds would support a new risk assessment tool, training for those expected to use it and a transition to a new working schedule ensuring staff members are available at all hours of the day.
Keene acknowledged efforts to implement Senate Bill 10 — approved by the state Legislature in 2018 and set to abolish the state's cash bail system and replace it with a risk-based system — have been put on hold as California voters wait to weigh in on a referendum of the bill to be placed on the November 2020 ballot.
Though he acknowledged the future of SB 10 is yet to be determined, Keene was grateful for the state's support of the county's efforts to prepare for a pretrial system in which cash bail plays a less prominent role.
"Regardless of what happens at the ballot, cash bail will be different somehow," he said. "This just gives us an opportunity to get ahead of the game."
Because the department he oversees currently provides the county's pretrial services, Keene said his staff currently provides recommendations to the court with information on an arrested individual's past so judges can determine whether that person is released on their own recognizance or what level of bail is set.
With a standardized and validated risk assessment tool, the evaluation of an individual's background and risk to public safety will go through a more formalized process, explained Keene. He said the additional funding would allow county officials to convert their system to accommodate a new risk assessment tool allowing them to gather data such as a person's potential to appear for court hearings and the types of crimes on their record, among other information.
He added, the pilot would also allow the department and other agencies involved in the process to figure out how to best allocate staff time to facilitate the changes to come, noting he anticipated a need to shift schedules so probation officers are available to provide recommendations on individuals who are arrested at all hours of the day.
Acknowledging concerns have been lodged about the possibility of bias affecting the results of risk assessment tools, Keene said the pilot will also support efforts to evaluate whether the tool used in the county has any potential for bias and ways to best address that issue if it arises.
Because each of the 16 courts awarded funding is expected to submit their data to the state, Keene looked to the Judicial Council's support to inform best practices for pretrial processes and standardized methods for making systemwide changes in the future. In addition to creating a system that balances public safety with fundamental standards, Keene hoped the months to come would allow county officials to build on their collaborative work.
"Hopefully, for a county like San Mateo we can be leaders in this conversation," he said. "I feel like this puts us at an opportunity to be really prepared for whatever comes next year."