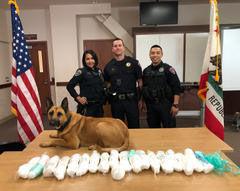 With use of a drug-sniffing dog, San Mateo police arrested a Nevada man allegedly hauling 23 pounds of methamphetamine, according to a press release.
During a patrol near Los Prados Park, around 8 a.m. Thursday, Oct. 3, officers contacted a driver who was pulled over on the side of the road. Following discovery of a warrant, the suspect was arrested and Ajax, a police dog trained to search for narcotics, helped find a stash of drugs estimated to be worth over $160,000, according to the press release.
Vladimir Magallan-Gallegos, 26, of Nevada, was booked into county jail on charges of possessing and transporting a dangerous drug.
Anyone with information regarding people suspected of manufacturing or selling narcotics, is encouraged to contact the San Mateo Police Department at (650) 522-7700. Anonymous crime tips can also be submitted to http://tinyurl.com/SMPDTips or by calling the secret witness line at (650) 522-7676.