In the wake of rePlanet recycling closing its 284 locations last week, those operating the Shoreway Environmental Center in San Carlos announced its buyback recycling center for glass and plastic bottles as well as aluminum cans is set to temporarily shutter Friday.
Though the free drop-off services currently offered at the site will remain in place, the influx of visitors to the San Carlos facility following rePlanet's bankruptcy announcement has proven to be unsustainable for center operators charged with processing half a million tons of material annually, explained Joe La Mariana, executive director of RethinkWaste.
La Mariana said officials did not take the decision to close the center lightly, and described the decision as a temporary one while officials assess the market and estimate future costs of operating the facility at the level officials observed since rePlanet's Aug. 5 closures. In a press release, rePlanet recycling cited the depressed pricing of recycled aluminum and polyethylene terephthalate plastic, also known as PET plastic, and rise in operating costs — such as minimum wage increases and required employee insurance — as reasons behind the closures.
Among the centers and processing facilities rePlanet closed across the state were locations in San Mateo, Redwood City and Millbrae. Though La Mariana was aware the system for redeeming California redemption value containers — which includes aluminum cans as well as glass and plastic bottles — was stressed, he said rePlanet's announcement came as a shock, increasing the number of people visiting the Shoreway Environmental Center's buyback center five-fold the day the rePlanet centers closed.
With traffic backing up onto Shoreway Road and some waiting more than an hour to process items at the buyback center in the days since Aug. 5, the center's current staff has been working to accommodate more visitors and process the items they drop off as quickly as possible, said La Mariana. But the uptick in visitors has affected the routes Recology trucks can take to and from the site as well as those used by the facility's neighbor, Lyngso Garden Materials, he said.
The combined effect of the changes taking shape in the last week has driven La Mariana to close the buyback recycling center as of Friday afternoon and revisit it with the board of the joint powers authority RethinkWaste represents, also known as the South Bayside Waste Management Authority, at its Sept. 26 meeting.
"Right now, we simply cannot continue operating. It's been a deluge," he said. "We're very, very sympathetic to the folks who look to the service for reimbursement … but we just can't offer the service."
La Mariana hoped the next few weeks would give officials a chance to assess the additional resources that would be needed to meet the demand the center had been seeing since last Monday, which could involve doubling the number of staff members and purchasing a second set of scales.
He also noted the buyback center represents a small portion of the facility's activities, and there is no reimbursement currently available to offset the operating expenses the facility would take on to increase its capacity. Though increased costs factored into officials' decision to wind down the Shoreway Environmental Center's buyback operations, La Mariana said concerns about safety and how the influx of visitors would affect the facility's neighbors were also weighed heavily in the decision.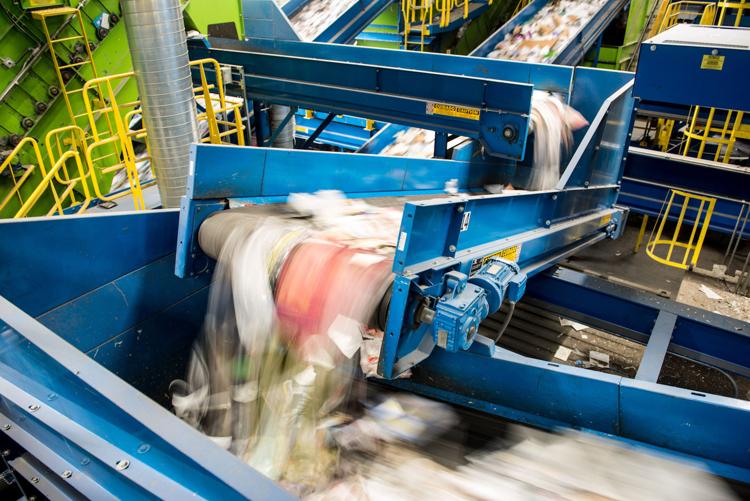 "Safety was just a huge consideration here and that always prevails," he said.
La Mariana said an oversupply of aluminum to domestic buyers in recent months as well as increasingly stringent standards for recyclables put in place by China last year are among the factors industry experts are citing for the drop in aluminum prices.
He noted he was well aware the buyback recycling center's Friday closing will leave residents with even fewer options in San Mateo County for redeeming California redemption value containers and encouraged residents to use the website recyclestuff.org to find alternate locations. The Blue Line Transfer Station in South San Francisco, J&D Recycling in San Mateo and ZARC International in South San Francisco have confirmed residents can redeem cans and bottles for cash at their facilities.
Though he acknowledged officials' decision to close the recycling buyback portion of the San Carlos facility's operations was driven by safety and a focus on its core functions, La Mariana said they are mindful of what it will mean for those who rely on the service.
"This is not an easy decision," he said. "We know that this is affecting lives … it's affecting the folks that really need that money."
The buyback center at the Shoreway Environmental Center at 333 Shoreway Road in San Carlos will close 4 p.m. Friday, Aug. 16. The Blue Line Transfer Station at 500 E. Jamie Court in South San Francisco, J&D Recycling at 1015 N. Amphlett Blvd. in San Mateo and ZARC International at 26 S. Linden Ave. in South San Francisco have confirmed residents can redeem cans and bottles for cash at their facilities. Call Blue Line Transfer Station at 589-4020, J&D Recycling at (510) 472-3068 and ZARC International at (415) 215-8059. Visit recyclestuff.org for more information on locations where California redemption value containers can be redeemed.