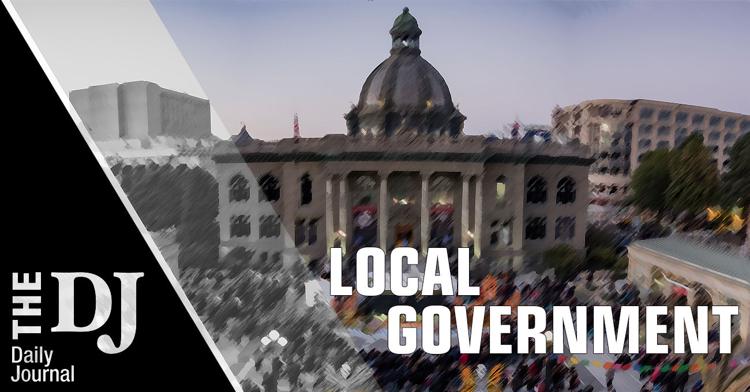 Reducing their own monthly stipends and a shift away from a 3% increase in city salaries are part of a number of measures the San Carlos City Council will explore Monday in light of a potential budget deficit brought on by emergency coronavirus spending.
"Recognizing the city is anticipating a budget shortfall, I think it's important we all do our part and that we hold ourselves to fiscal accountability," said Vice Mayor Laura Parmer-Lohan. 
At a council meeting held May 25, Parmer-Lohan recommended the council consider a temporary reduction of 10% to a monthly stipend provided to councilmembers for their work. Each councilmember receives a stipend of $560 a month but has the option to turn down the compensation at any point. 
Councilman Mark Olbert showed support for Parmer-Lohan's recommendation but asked the council to consider taking stronger action. 
"I plan on lobbying the council to do more," said Olbert. "Personally I appreciate the community paying me but I wouldn't have any problem eliminating it completely." 
If adopted, the resolution would decrease the monthly stipend of each councilmember by $56 resulting in a budget savings of approximately $3,000 in the fiscal year 2020-21. 
The council will also consider amendments of two resolutions adopted October 2019 aimed at implementing pay increases for city staff. The original resolutions would take effect June 1 of this year, initiating a two-year plan to gradually increase base pay for various city staff positions by 3%. 
Amending the two measures would keep city staff wages at their current rates while also placing a two-year cap on accrued vacation hours. Staff members would be allowed to liquidate any accumulated hours beyond the two-year cap. 
Following the amendment, staff members who reach the two-year cap would halt the accumulation of vacation hours until brought under the maximum limit. The city would also no longer contribute to employee deferred compensation accounts. 
In other business, the council will also consider adopting two measures aimed at encouraging residential outings and patronage at downtown storefronts. The first includes a $200,000 alternative mode of transportation plan aimed at overhauling the city's bicycle and pedestrian safety accommodations. If adopted, residents would see the addition of 30 miles of bikeways, a mile of improved sidewalk and 39 pedestrian safety improvements. 
The other proposed plan centers on the strict closure of the 600 and 700 blocks of Laurel Street and partial closures to the 800 block of Laurel Street and 1100 block of San Carlos Avenue. Merchants in the selected areas have campaigned for councilmembers to move forward with the initiative as a booster to patronage. 
Also included in the safe streets plan are two bicycle loops, one to connect through Cedar, Elm and Cherry streets and Arroyo Avenue and the other on Cedar Street, Howard Avenue, Elm Street and St. Francis Way. Signs would be distributed with the assistance of police officers to warn drivers of bicyclists and to encourage slower speeds.
A public hearing will also be held in regards to an appeal of the Planning Commission's decision to approve the development of a residential building containing 35 condominiums and two commercial units at 626-648 Walnut St. Residents had expressed concern of the look of the building and the possibility of it blocking balconies nearby during an April Planning Commission meeting.  
The council will also receive a verbal update on how the city has been affected by COVID-19. An update will also be presented on the Tenant Assistance Program, a rental subsidy program aimed at assisting renters afford housing. 
The City Council will meet remotely at 7 p.m. Monday, June 8, and will be streamed live at sancarlosca.iqm2.com and on Comcast Channel 27 and AT&T U-verse Channel 99. Remote public comments will be received by telephone during the meeting, prior to the close of public comment on an item. (669) 900-9128 or (253) 215-8782, Meeting ID: 452 388 965.