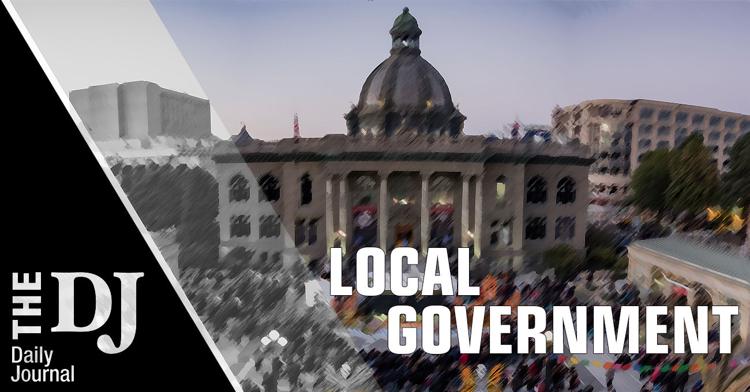 Fearing his San Bruno apartment building could be seized to make way for a project separating the nearby train track from the street, Phillip Fitting dug in his heels.
"I got one good fight left in me. I'm not going to lay down and roll over like a puppy dog," said the 75-year-old San Mateo resident whose rental property on Scott Street was threatened by eminent domain.
Leveraging the wherewithal of his adult children who are versed in the art of navigating public governance, Fitting went to work over the past few months. Despite undergoing knee replacement surgery, Fitting canvassed the neighborhood, collected petition signatures opposing home taking, purchased ads in the newspaper, printed yard signs and wrote city officials.
"I did everything in my power that I could to awaken the residents of the Fifth Addition neighborhood," Fitting said. "To get them stirred up."
The final effort invited a phone call from Mayor Rico Medina, giving way to a town hall meeting granting those with concerns similar to Fitting an opportunity to air their grievances.
His exhaustive effort seems to have paid dividends, as officials at City Hall are not recommending the San Bruno City Council advance with the project option featuring eminent domain. The surrounding land would have been needed to make space to allow cars to pass through.
Instead, the recommendation before councilmembers at the meeting Tuesday, Nov. 26, would close Scott Street to vehicles and either an overcrossing or undercrossing for pedestrians and cyclists would be constructed at the railroad tracks. That option may also include a connection between Scott Street and Huntington Avenue and no residential properties will be affected. A final option would be to preserve the status quo.
Officials want to separate both Scott Street in San Bruno and South Linden Street in South San Francisco from the Caltrain tracks to improve safety and traffic congestion caused by gate down time. The intersections have been studied together because of their close proximity to one another.
The discussion comes in advance of the uptick in expected train traffic brought by Caltrain electrification as well as a High-Speed Rail line planned to share tracks along the Peninsula. The rise in activity is projected to result in enhanced gate down time — potentially twice as long as currently encountered.
For his part, San Bruno City Manager Jovan Grogan framed the recommendation to move ahead with the grade separation while also avoiding eminent domain as the most common-sense solution.
"It's truly the option that protects the public by having a grade separation, protects homes and the real property in that area from undergoing a process where several homes would have to be removed to make the project occur and protects the community because train traffic will increase," he said.
Fitting expressed great relief hearing officials are not recommending pursuing the option he fought so vigorously.
"It's like taking a 300-pound weight off my back," he said.
Ever the skeptic though, Fitting said he still plans to attend the upcoming meeting, speak his piece and assure officials adopt the recommended option to avoid eminent domain.
"I've got to see it," he said. "I've got to know it and feel it."
Otherwise, Fitting said he shudders to think about the outcomes for his land and that of the others in the neighborhood — especially elderly residents who may be left without recourse.
"I just don't want anyone losing their homes, or anything like that," he said. "It's just really radical."
Reflecting on his tireless endeavor in the lead-up to the vote, Fitting said he discovered unexpected enjoyment. He met new neighbors, encountered amiable city officials and learned plenty about public governance. Moreover though — regardless of outcome — Fitting said he soundly defended his principles.
"At least I can look in the mirror and say 'hey Phil, you did what you can do. You maxed it out,'" he said.
The San Bruno City Council meets 7 p.m. Tuesday, Nov. 26, in senior center at 1555 Crystal Springs Road.