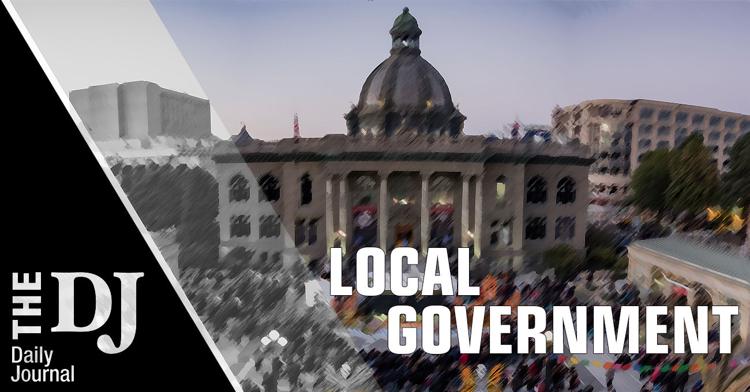 Establishing a residential parking permit fee, increasing the fines for those found in violation of parking restrictions and limiting the number of parking permits that can be issued to a given household were among the possible measures Redwood City officials weighed as they took steps toward updating the city's residential parking permit program Monday.
In response to concerns about the availability of street parking in residential neighborhoods, the city has shaped a residential parking permit program, or RPP program, in four sites across the city, said Christian Hammack, the city's parking and transportation demand manager. Though the program started with parking restrictions on streets near Sequoia High School and Sequoia Hospital some 30 years ago, it has in the last three years expanded to include the southern end of Broadway in the Friendly Acres neighborhood and some streets in the Stambaugh-Heller neighborhood just south of the city's downtown, he said.
With the goal of ensuring street parking is available to residents of those areas, rules were formed establishing two-hour parking time limits during the day on weekdays and allowing up to three annual permits and 10 daily guest permits to be issued to one address, said Hammack.
Because the number of complaints about parking availability has been rising, city officials have been exploring ways the program can be changed to better address concerns residents have raised about the number of vehicles that may be associated with one property and the storage of utility vehicles, boats and residential vehicles on residential streets, among others, he said.
Up for review at the council's Monday meeting were changes to the city's current ordinance allowing the City Council to establish a permit fee to offset the cost of administering the program, set the days and hours when parking is restricted in specific areas, limit the number of permits issued for each address and create a new type of visitor permit valid for 14 days.
Though several residents voiced support for the effectiveness of the RPP program currently in place, many shared concerns about imposing a fee on residents to park on their neighborhood's streets.
Councilwoman Alicia Aguirre acknowledged there are high-density, low-income neighborhoods that could be disproportionately affected by permit fees as well as other residents who have welcomed an RPP program in their neighborhoods and said they are willing to pay for it. She also noted the tension between measures officials have encouraged to increase the city's housing stock — such as facilitating affordable housing and accessory dwelling units — and mitigating the effects of those changes on existing homes and neighborhoods.
"We have kids coming back home, we want people to rent their second units to nurses, to teachers," she said, according to a video of the meeting. "Yes, we want all these things but now we want one just parking spot per house. So how do we balance the needs that we have for housing and what we're promoting?"
Having estimated the city's current RPP program costs $36,000 annually to administer, Hammack explained officials have scoped a possible set of first-year fees charging residents $60 for the first and second permits they are issued and $130 for the third permit. He said those fees could cover the administrative costs of the program — which include creating signs, installing them and issuing permits — but noted the proposed fees would not cover the costs of enforcing the program, which account for 84% of the total cost of the program, according to a staff report.
Aguirre wondered if officials could consider using revenue from parking tickets issued downtown to fund the program and consider the unique needs of each neighborhood when officials study possible permit fees and citation fines at a future session. Hammack explained the council is expected to discuss specific fees that could be set for residential parking permits in the coming months after staff holds community discussions, noting they are hoping to make any changes officials and residents support before the end of the year.
As a resident of Stambaugh Street, Pedro Sanchez said he agreed with many who felt the city's current RPP is working, but felt implementing a fee could present a big challenge for those who are already struggling with rising housing costs and other fees. Though officials voiced support for exploring another set of reduced fees for low-income residents, Sanchez added some low-income residents may not be able to step forward and apply for those programs out of concern for their immigration status.
"There's people who are struggling in the neighborhood just to make their monthly rent because their rent is so high," he said. "This is just yet another fee they have to pay."
Resident Isabella Chu said the city's RPP program has helped alleviate the parking crunch her neighborhood has experienced, and wondered if officials could consider re-evaluating the program more frequently in case changes are needed in the future. She felt that charging residents a modest fee might encourage some to reconsider whether they need multiple vehicles, noting it makes sense to charge some fee to be able to park if parking space in the city is so valuable.
"It's oversubscribed, we have a housing crisis, so there's a tremendous amount of crowding," she said. "I do think charging a modest fee … will help people really think about 'do I really need that third car?'"
Though Mayor Ian Bain was in favor of updating the city's program, he said he was not supportive of charging fees for the permits and said he would rather explore increasing fines to pay for the program costs. Bain also advocated for improving the signs posted to indicate parking restrictions and ensuring they are placed in locations where everyone can easily see them.
"I have a philosophical problem with charging people to park on public streets, which arguably we're already paying for with our taxes," he said.