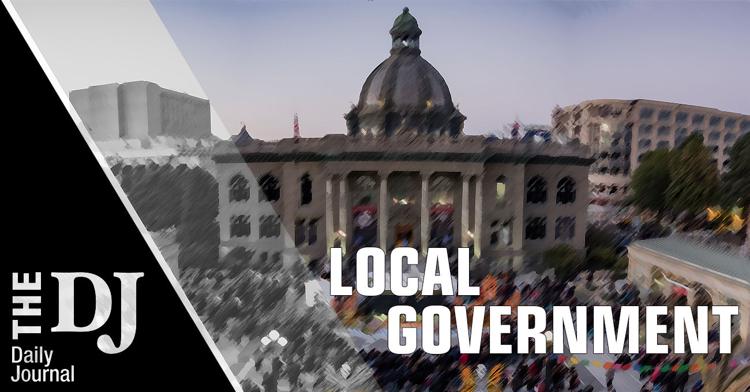 A balanced Redwood City budget for fiscal year 2019-20 has been prepared with the help of the half-cent sales tax increase voters approved in November, but officials are again forecasting a deficit as soon as fiscal year 2021-22.
If no adjustments are made to expenditures or revenue sources then the deficit is expected to reach $1 million by then and grow to about $18 million by fiscal year 2028-29. The projected deficit is due to rising pension costs and an economic downturn economists expect to occur in fiscal year 2020-21.
"Since 1945, the longest expansion has been five years so we all know something's got to give," Assistant City Manager Kimbra McCarthy said at a meeting June 10, adding that the downturn is expected to result in modest decreases in sales tax revenue in the near term and modest increases in sales tax revenue in the next five to 10 years.
Vice Mayor Diane Howard is concerned about the future of sales tax revenue and wants the city's new economic development director to closely analyze it.
"I'm really worried about that," she said. "We only have two big ones and for property tax we can only do so much, but if sales tax starts flattening we really have a problem so I want to be sure we do everything we can to make sure we're keeping it strong."
Redwood City's sales tax rate is currently 9.25% and it will rise to 9.75% when Measure W, the countywide half-cent sales tax increase for transportation, takes effect. Local sales taxes cannot be more than 3% over the state's 7.25% for a total of 10.25%.
Because of the projected deficit, the city will need to continue exploring cost reductions and new revenue sources, according to a staff report.
The city has an unfunded pension liability of about $242 million according to the most recent actuarial report, coupled with the retiree health obligation of $58 million, collectively totaling almost $300 million in unfunded liability, McCarthy said.
Pension costs are expected to rise significantly to pay off the liability. In 10 years, the annual payment is expected to be $45.5 million — almost $18 million more annually than will be paid this fiscal year, or a 64% increase.
Currently, 15% of the city's general fund goes toward pension costs and within 10 years it's expected to grow to 24% of the general fund, McCarthy added.
If the council made no additional payments to its pension liability than what is required it would take 22 years to pay the debt. Starting in fiscal year 2018-19, the council decided to pay an additional $1.6 million to the California Public Employees' Retirement System annually so that the obligation can be funded a little sooner in 21 years.
Moving forward, the council will consider making even larger payments to CalPERS to lower the payoff period to 18 years and save the city $38 million in interest.
The council also signed of on a policy Monday to use 80% of any year-end operating balance toward pensions and 20% toward one-time council priorities. For fiscal year 2018-19, the operating balance came out to $5.6 million, of which $4.2 million will be spent on the unfunded liability. About $3 million of that money will go to the city's pension trust and $600,000 directly to CalPERS in addition to the $1.6 million the city's already pays annually to the agency. Another $600,000 will be spent on retiree health costs.
Councilmembers celebrated the proactive approach of spending 80% of year-end operating balances on pensions and 20% on council priorities.
"I absolutely support the 80%," Councilwoman Giselle Hale said. "It's just what any of our residents would do if faced with the same situation in their personal finances. You tighten your belt and you pay down your debts and that's what we need to do."
Her colleagues agreed, though most also called for some flexibility to the 80%-20% breakdown.
The other $1.4 million from the year-end operating balance will go to council priorities, including housing, transportation and children and youth.
Councilwoman Alicia Aguirre was concerned that the above one-time funds proposed for housing and transportation are being spent on consulting rather than direct services.
"I'd like to see our priorities funded with more direct services and this is kind of indirect," she said, referencing $390,000 for a three-year contract Human Services coordinator position and $150,000 to upgrade existing positions in the housing division, to name a couple of line items. "Let's put that money into something else instead of all of these different consulting services. And it's different for children and youth where we have money for after-school programs and that's touching lives and touching folks versus indirect services. When I look at housing, all of it seems to go everywhere but to building a house so that was a concern of mine."
City Manager Melissa Stevenson Diaz said the proposed strategy for one-time funds is based on community input, adding that the council could instead direct staff to be more "hands off" and spend one-time funds on a certain project or nonprofit housing developer.
"A lot of what we're hearing is an interest in program development and initiatives such as using our own property for housing or partnering with others to use housing and fundamentally that takes staff time to make that happen," she said.
Councilwoman Diana Reddy wants one-time funds to be spent on safe parking for people living in RVs.
"We have people living in RVs who are being vilified because they lost their housing and are living in RVs because they want to remain in Redwood City, many of whom work here," she said. "If we're going to look at one-time funds I'd ask my colleagues to consider finding safe parking sooner rather than later so we can create an opportunity for people if they must sleep in RVs to be in a safe place."
The 2019-20 budget seeks to address impacts associated with the recent consolidation of schools caused by the Redwood City Elementary School District's ongoing budget troubles from dropping enrollment.
Next school year, some families will be traveling further distances to schools and neighborhoods will experience traffic impacts due to new travel patterns. To enhance safety and ease impacts, staff plans to update walking and biking maps and to support the creation of biking school buses, implement additional traffic enforcement for four weeks at the start of the 2019-20 school year and increase citywide communications to help residents prepare for new transportation patterns, according to the report. The budget also includes increased after-school programming.
Hale applauded the inclusion of after-school programming in the budget.
"There's such a huge need for after-school care as a result of this consolidation and I'm so thankful the city prioritized this," she said. "There are a lot of cities in the same situation that would've said 'school district this is your issue, this is your jurisdiction' so I think it speaks volumes to Redwood City and to our values."
Hale also requested additional information about the plan for addressing traffic impacts associated with consolidation and suggested a future study session on the topic.
The 2019-20 budget also includes funding to equip all police officers with body-worn cameras by the end of the year and also train all of them in mental health crises. Currently, 84% of the department has received such training.
The move was appreciated by resident Lori Hart, whose son Kyle Hart was shot and killed by Redwood City officers last year during a mental health crisis.
"These programs are in line with best practices and funding for them lays a basic foundation to ensure safety for our police officers and citizens," she said. "My community and I look forward to tracking progress on these programs."
The budget also includes funding for two parking enforcement officers to handle work currently performed by sworn officers.
Note to readers: The story has been changed to reflect that 84% of Redwood City's police department has already received training in mental health crises and not just 40%.