As plans for a new bike lane, wider sidewalks, additional trees and sidewalk extensions at intersections long discussed for a stretch of Middlefield Road in the North Fair Oaks neighborhood take shape, residents and business owners are curious to see how improvements planned for the major neighborhood thoroughfare will affect them.
Months of community meetings and surveys distributed to community members helped inform the San Mateo County Board of Supervisors' April decision to include a buffered bike lane, 35-foot tree spacing, 12-foot-wide sidewalks and bulb-outs at all intersections among the infrastructure improvements planned for the 0.3-mile stretch between Pacific and Fifth avenues, said Warren Slocum, who represents District 4 on the San Mateo County Board of Supervisors.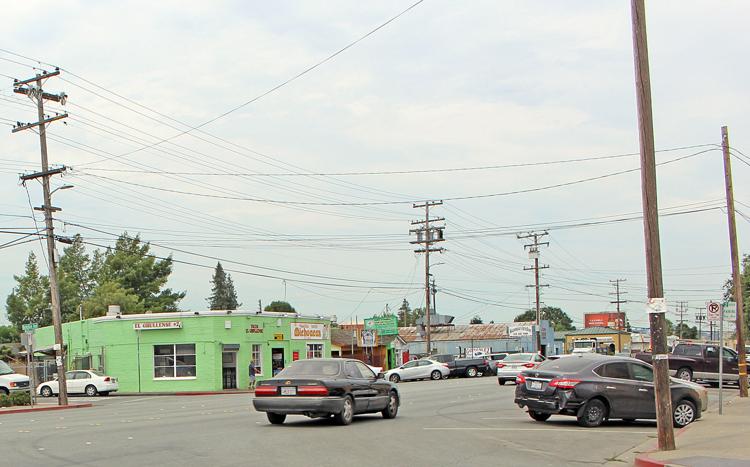 Now in its design phase, plans to improve the road are currently being paired with efforts to underground utilities for the same stretch. Jim Porter, San Mateo County's Public Works director, said work on the utilities, which move overhead power lines, telephone lines and internet-related fiber optic materials underground, could start as early as summer or fall of 2018, depending on coordination between utility providers in the area.
Home to a diverse collection of businesses, including several restaurants, auto repair shops and furniture stores, among others, the road is sandwiched between light industrial businesses and residential neighborhoods in an unincorporated section of San Mateo County.
Though business owner Zulma Valdivia acknowledged improvements were needed for the wide street where drivers and pedestrians often cross paths, she wasn't sure how they would play out for the different businesses clustered around the street. Valdivia has operated her business, Divia Express Insurance Agency, at 3000 Middlefield Road for 11 years and has been following the many improvements planned for the street, which also include a reduction in the number of lanes on the street from four to three and a change from angled to parallel parking.
"I'm not sure how it's going to work out," she said. "Everybody's just always worried about the parking."
She said she's keeping a close eye on parking herself since about half her customers are local and walk to her business and the other half drive there from other parts of the Bay Area. But she wondered how other business owners with locations on the street, such as auto body shop owners in need of places to park their clients' cars for several hours, would deal with the reduction in parking spots that would accompany the change.
Valdivia thought some concerns expressed by fellow businesses and customers of her business could be addressed by a new parking lot slated for the intersection of Middlefield Road and Second Avenue. Porter said construction crews were given the go-ahead on the lot, expected to make over 40 parking spots available, this week, with construction expected to take another two to three months.
Resident Paul Lloyd was hopeful the improvements would better reflect the needs of those who access and live near the street. Having lived half a block away from the proposed improvements for five years, he was encouraged by the plan's potential to slow traffic and increase the visibility of pedestrians.
"It's kind of just been tagged as a light industrial zone and there's actually a lot of people that access this corridor," he said. "I think it's going to make some major safety improvements."
But he was disappointed more hasn't been done to make the improvements discussed for years in community meetings he's attended. Porter acknowledged the complicated nature of making infrastructure improvements. With water and stormwater utilities already located underground and train tracks intersecting with the street, he said the project's timeline still relies heavily on coordination between a collection of agencies providing services to the area.
"We're very early in the design process and there are a lot of uncertainties," he said.
Tammy Herrera, a 60-year neighborhood resident, preferred officials focus on cleaning the street over making structural improvements to it. Though she walks to most places where she needs to run errands, she said she doesn't feel like walking into stores on Middlefield Road anymore because of the build-up of trash and waste left from pets she's noticed in recent years.
"Before beautifying stuff, clean the street," she said.
Shawn McMillan, owner of Connoisseur Coffee Co. at 2801 Middlefield Road, also wondered how the street's aesthetics would change with the plans. Having noticed the pride locals have for the area in the 33 years since he's been in business, McMillan is hoping the street doesn't become a "cookie-cutter" version of another downtown.
"They're going to lose a lot of the charm," he said.
Located at the end of the stretch slated for improvements, McMillan wasn't sure his customers, who usually park for a few minutes while buying coffee, would be affected by the expected parking changes. But he did wonder how residents in the nearby neighborhoods, who he's noticed sometimes park in the street for hours at a time, may be affected by the changes.
Valdivia has stayed updated on ideas considered for the street through community meetings and conversations with neighbors and has questions about some of the improvements proposed. In the meantime, however, she has been encouraged by those implemented. She said limiting some street parking spots to compact cars has increased visibility for those backing out of spots and monthly street sweeping, two changes she's noticed in recent months, have made the street easier to use.
"Little by little we're cleaning up," she said.