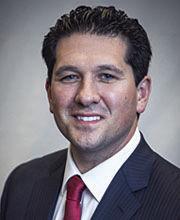 A resolution urging Congress and the president to impose a moratorium on mortgage payments because of the coronavirus failed to win a second from San Mateo County Supervisors — inaction Tuesday that left its sponsor Supervisor David Canepa "awestruck."
"It came out of left field," Canepa said. "I thought it was going to be a 5-0 vote."
Failing to win a second for the resolution meant the measure did not go before the Board of Supervisors for a vote.
Supervisors held the meeting by teleconference through Zoom and Canepa said when no second was forthcoming he concluded board members couldn't hear one another.
"I thought it was an audio error," he said.
The federal Coronavirus Aid, Relief, and Economic Security Act known as CARES only deals with 44% of mortgages and so additional action is required, Canepa said after the Board of Supervisors meeting.
"It's necessary legislation supported by homeowners in my district," he said. "When you don't have income, it's hard to pay the mortgage."
His memorandum to the Board of Supervisors said shelter-in-place orders have disrupted lives of Calfornians and led to income loss.
"It is imperative that the banking industry and financial regulators advance short-term mortgage relief in order to keep all Californians in their homes and businesses in place," Canepa stated.
The four other county supervisors did not comment during the board meeting about why they wouldn't second the resolution.
Warren Slocum, president of the Board of Supervisors, said in an email after the meeting that "we all support both the commercial and residential eviction moratoriums but this measure had not been vetted by our congressional delegation."
"We did not have the wisdom of their perspectives on the congressional part of the resolution," Slocum said.
Moreover, the governor and the White House have made important announcements on the matter, Slocum said.
Supervisor Dave Pine said in an email that he supports the intent of assisting those affected by COVID-19 with their mortgage payments.
But Pine said Canepa's resolution "was a symbolic request of the Congress and President Trump and would have done little to advance the goal of providing more extensive mortgage relief than is now available under the federal CARES Act and the forbearance agreements initiated by Gov. Newsom with approximately 400 banks."
Canepa's measure, calling for federal action to impose a moratorium on residential and commercial mortgage payments, followed county supervisors approving a local moratorium Tuesday on commercial evictions of small businesses. Supervisors meeting March 24 had approved a ban on the eviction of residential renters.
Canepa said he saw his resolution, before it failed to win a second, as part of such protections.
"I just thought to myself now we have something for the homeowners," the supervisor said.
Canepa ran into Board of Supervisors resistance in 2018 over his concern about lethal autonomous weapons and his goal to get county supervisors to express opposition to federal officials and the United Nations. Supervisors said then that they did not focus on matters outside the county's jurisdiction.
Canepa doesn't see other supervisors deciding not to second his motion Tuesday on mortgage payments as reflecting their opinion of him.
"I don't think it's personal," he said. "We all pretty much get along."