Redwood City officials are exploring potential historic district designation for the Mt. Carmel neighborhood along with citywide residential design guidelines to preserve neighborhood character.
Both efforts will be the focus of a City Council study session July 23. A Mt. Carmel Historic District was alluded to in the city's general plan, and is a listed goal in the budget for fiscal year 2019 after residents complained that older homes have been demolished or remodeled in such a way that the historic integrity of the building was compromised.
According to Redwood City Voice, the city's blog, rising property values will also put "increased pressure to tear down existing homes." So officials have identified a three-step process moving forward, according to the blog post.
First, any proposal that entails the demolition of a home in the Mt. Carmel neighborhood or any pre-World War II home in Redwood City must be reviewed by the Historic Resource Advisory Committee. Applicants have been required to submit a historic report for significant additions or teardowns, but city staff will now handle that report. Second, the city would hire a consultant to conduct a historic district review of Mt. Carmel, including extensive community outreach, which could take one to two years. And third, a citywide residential design guidelines process could take two to three years to complete.
Whether those plans actually move forward is up to the council.
Historic districts are areas with a concentration of buildings that are at least 50 years old typically and protected by special design guidelines and subject to public review.
Historic districts also typically align with a theme, said Jim Gernand, chair of the Historic Resources Advisory Committee.
The city is currently home to three historic districts, including Main Street, Mezesville and Stambaugh-Heller, but no neighborhood west of El Camino Real has been surveyed for historic designation, only individual properties. Mt. Carmel is immediately west of downtown with Sequoia High School at its eastern border.
Gernand said some initial work was done around 2010 to see if Mt. Carmel would qualify as a historic district, but the project was shelved because of limited funding.
Rachel Holt, a Mt. Carmel resident, chair of Mt. Carmel's neighborhood association and former planning commissioner has been an outspoken proponent of creating a Mt. Carmel Historic District and establishing stricter guidelines for future development. She is proposing borders for the historic district from El Camino Real to Myrtle Street and from Whipple Avenue to Jefferson Avenue.
"There are some truly amazing and beautiful historic homes in this neighborhood. A lot of them are getting bulldozed and the new ones being built are inconsistent with the surrounding character," she said, referencing a number of homes built in the teens and 1920s in a variety of styles, including Spanish colonial revival, Tudor revival and craftsman. "Generally people don't notice until it's gone and too late."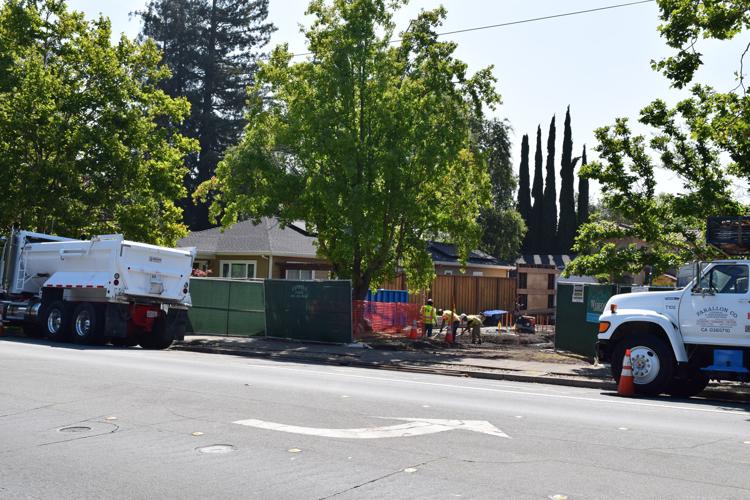 After a teardown, the new home constructed is often much larger, and while size is a concern of some neighbors calling for historic designation for Mt. Carmel, Holt said that's not the issue for her. She said she remodeled her home and nearly doubled its size, but in a way that's "entirely consistent" with the original house.
"It's not about add-ons, it's about honoring the historic character of the neighborhood and frankly a lot of the reason why people buy here is honoring that and not losing it," she said.
Gernand said additions have been made to many historic homes in Redwood City over the years.
"The single biggest restriction is it makes it an issue if you want to tear down the current home and build a completely new home, then it comes into play, but as far as additions and second stories we've had those types of projects successfully done on historic properties," he said. "The guidelines generally refer to changes to exteriors and don't restrict the remodeling of interiors."
And historic district status won't be able to prevent teardowns completely, according to the city's blog post.
Gernand also said evidence shows property values generally increase with historic designation and, in some cases, owners of historic homes are eligible for property tax breaks.
The City Council Mt. Carmel Historical Study and Residential Design Review will be 7 p.m. Monday, July 23, at City Hall, 1017 Middlefield Road.