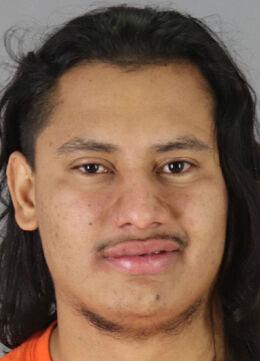 The San Mateo Police Department on Tuesday arrested a 27-year-old homeless man accused of violently raping a 62-year-old woman in the city last week.
Alejandro Vanegas Guevara, who is believed to have ties to Redwood City, was arrested on the 100 block of Wayne Court in Redwood City at 2:04 p.m. He was then booked into the San Mateo County main jail for charges including forcible rape, assault with a deadly weapon and kidnapping.
"This is a particularly brutal and savage crime and not one we often see or will tolerate in our city," said San Mateo Police Chief Ed Barberini at a press conference. "Members of this department worked tirelessly to identify this predator and bring resolution to this case."
San Mateo police Sgt. Todd Mefford said crimes like this are more rare than a homicide.
"I was raised in San Mateo, I've spent 26 years here, and I can count on one hand these type of crimes," he said. "These are stranger abduction rapes and I think they're more rare than a homicide."
At 10:40 p.m. Aug. 5, police responded to the area of Ninth Avenue and El Camino Real on a report of suspicious activity. Upon arrival, officers discovered the victim and later learned she had been violently attacked and raped while waiting for a bus, Barberini said.
The victim, who did not know Guevara, was transported to a local hospital where she remains today being treated for serious injuries, Barberini said.
The San Mateo Police Officers' Association created a GoFundMe, among other fundraising platforms, to raise money for the victim described in a press release as "the sole provider for her two young boys and 90-year-old frail mother."
According to the release, the family's monthly rent is past due, utility bills are coming in and she still has mouths to feed.
"We know times are difficult right now. ... The victim in this case has a long road ahead and could truly use any support," Barberini said. During the press conference, police noted a single donor contributed $20,000 to the fundraiser.
Mefford said information provided by the community and disseminated by the media was vital to the investigation.
Based on tips, police recovered a "LIFEGUARD" sweatshirt Guevara was seen wearing as well as a silver bike he was seen riding on the day of the alleged attack. Communicating that information to the public generated new leads that ultimately led police to a location in San Mateo where they were able to secure a clear image of the suspect from surveillance footage, Mefford said. That image was shared with the public, generating further evidence and leads, he added.
During the press conference, police said Guevara, who has a history of violent attacks, couch surfed with friends and his lack of a permanent address added difficulty to the investigation, which Barberini described as "extraordinarily comprehensive."
"I know how difficult it can be to work a case when you have no idea who the suspect is and the fact that we resolved it so timely brings me some ease, but also some satisfaction from a justice perspective," Barberini said.