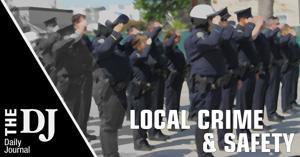 A Los Altos man accused of hit-and-run and causing a major collision Monday afternoon on Highway 101 and Broadway in Burlingame has been arrested on a felony DUI narcotics charge, the San Mateo County District Attorney's Office said Thursday.
Jay Smith, 35, allegedly rear-ended two cars on the freeway and fled both times before rear-ending a third car, causing the driver to lose control and crash into the center median, while Smith also crashed his car and blocked a lane, prosecutors said.
California Highway Patrol officers at the scene determined he was under the influence of drugs and arrested him, prosecutors said. He also faces two hit-and-run misdemeanor charges. Smith appeared in court Thursday and pled not guilty, and his next court date is April 14. He is in custody on $10,000 bail.