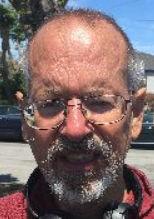 A Redwood City man is behind bars Thursday after he allegedly robbed a Wells Fargo bank in San Bruno late Wednesday morning, according to the San Mateo County District Attorney's Office.
By the time police found Gerald Billman, 62, Wednesday afternoon, he had already allegedly threatened to shoot a Wells Fargo bank teller if she didn't give him all the money she had and gone into a nearby Chili's restaurant to drop some of the $4,000 he stole in cash in the kitchen, pick it up and leave the restaurant, according to prosecutors.
Just after 11:30 a.m. Wednesday, Billman allegedly walked into a Wells Fargo bank at 875 El Camino Real and told a bank teller he was about to commit suicide. He allegedly said if she didn't give him money he would put a bullet through her head, according to prosecutors.
The teller allegedly gave Billman the cash and called police immediately after he left the bank. Police visiting businesses nearby the bank heard a man matching Billman's description had gone into the kitchen of a Chili's restaurant before heading toward the Kaiser Permanente San Bruno Medical Offices, according to prosecutors.
As Billman was being handcuffed, he allegedly told police he was just mad at Wells Fargo, according to prosecutors.
When Billman appeared in court Thursday, he pleaded not guilty to charges of felony robbery and threats and the county's private defender program was appointed to his case. With prior bank robberies on his record, Billman may face up to 25 years to life in prison, said District Attorney Steve Wagstaffe.
Billman remains in custody on $500,000 bail, according to prosecutors.