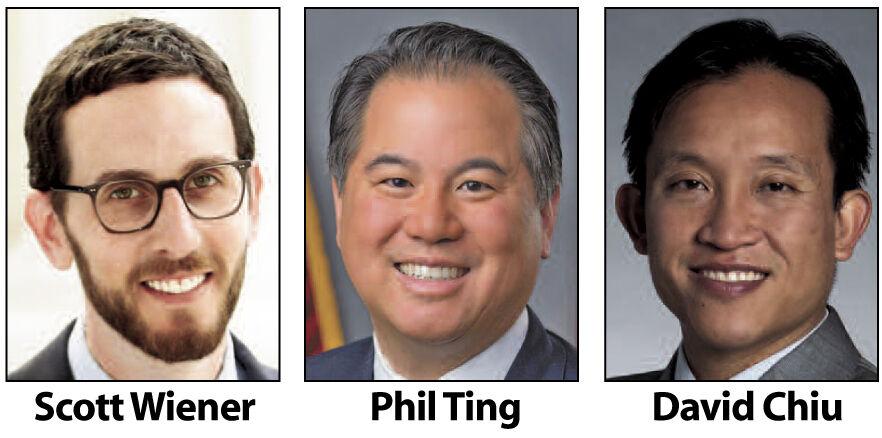 Despite worsening health conditions yielding tightened lockdown restrictions throughout the state, a trio of Bay Area lawmakers authored a letter to local education officials urging the reopening of school campuses.
State Sen. Scott Wiener, D-San Francisco, alongside Assemblymen Phil Ting and David Chiu, D-San Francisco, authored a letter Tuesday, Dec. 1, calling on the San Mateo County Office of Education and other local school districts to restart in-person learning.
Citing the support of the state Legislature and California Department of Education, the letter said local education systems will be granted the requisite funding and safety supplies needed to safely bring students back to school amid the pandemic.
"Preventing further expansion of the achievement gap, meeting the social-emotional needs of students, supporting family health and allowing parents to work are all paramount reasons why we must all work together to open our schools to students as soon as possible," said the letter.
Wiener and Ting represent northern portions of San Mateo County, while Chiu solely represents San Francisco. A spokeswoman for state Sen. Jerry Hill, D-San Mateo, said the outgoing lawmaker had no comment on the issue and Assemblyman Kevin Mullin, D-South San Francisco, said through a spokeswoman he had nothing further to add.
The letter arrived just as San Mateo County slid back into the most-restrictive purple tier, which limits school operations. Only transitional kindergarten through sixth grade can return to campuses, but schools that started in-person learning prior to the tier shift can remain in session. Those that are yet to must apply for a waiver that is approved by county health and education officials, as well as the state.
As a result, school districts throughout the region are plotting the course ahead separately. For example, the Burlingame Elementary School District recently agreed to apply for a reopening waiver for lower grades in January. Meanwhile, San Mateo Union High School District officials discussed policies intended to safely return, but their path to allowing students back is blocked until the county moves to a less restrictive tier.
South San Francisco Unified School District officials, who also received a letter from the lawmakers urging reopening, deferred comment on the issue until it is publicly discussed at a school board meeting next week.
For her part, San Mateo County Superintendent Nancy Magee said she largely agreed with the lawmakers' position that schools are the best and safest place for students, adding many local district officials are working hard to reopen campuses rapidly.
"San Mateo County has made great progress in getting students back on campus whether in hybrid models or through small group settings. I expect that after the holidays more of the elementary districts will continue to move forward with their plans," she said in an email.
More specifically though, Magee said her office is committed to working alongside the education officials representing districts throughout San Mateo County to assure reopening decisions best meet the unique needs of each school community.
"I value these local decisions, and [the San Mateo County Office of Education] is doing all we can to meet the various needs that result from the different approaches," she said.
A main hurdle to overcome for districts seeking to reopen is reaching collective bargaining agreements with teacher unions who have largely opposed returning to campus until educators are certain it is safe.
E. Toby Boyd, board president for the California Teachers Association, said the union generally concurs with the perspective shared by lawmakers in the letter that students should be back at campus. But he bolstered that opinion by suggesting officials work alongside teachers to craft a comprehensive plan for a safe return.
"All districts should develop and publicize their safety plans in collaboration with educators, ensure adequate PPE and testing, and that the funding allocated by the state is being used for safe reopening," he said in an email.
For their part, lawmakers also expressed a commitment to working together on an effort to improve the quality of life for students, teachers and the rest of the Bay Area's school community.
"We look forward to collaborating with you in supporting our communities," said the letter.