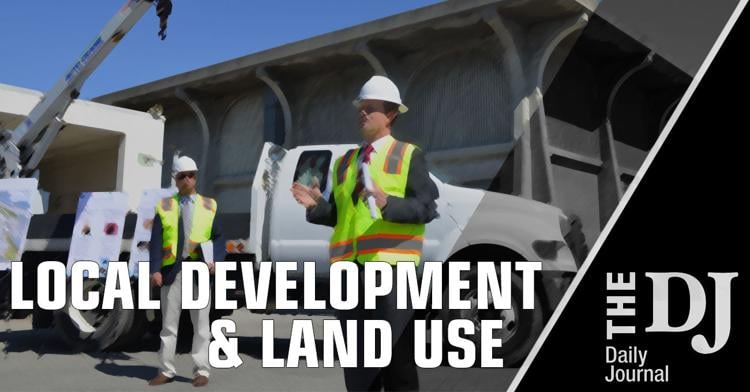 To avoid the backlash plaguing a previous proposal to build a high-rise residential tower on public land abutting El Camino Real in South San Francisco, community input is being sought to shape the development's design.
A representative from AGI, which is partnering with development firm KASA to construct the mixed-use development near where Westborough Boulevard turns into Chestnut Avenue just west of downtown, said project plans are taking shape.
But before designs can be submitted formally to city officials later this year, residents are encouraged to offer their perspective on the proposal including retail, community amenities, open space and hundreds of residential units on land previously owned by the San Francisco Public Utilities Commission, said Brian Baker, AGI's vice president of development.
He said the perspective shared by residents will be essential to crafting a final development that meets community needs, which will also be balanced against the city's opinion and other financial interests.
Ultimately it is unlikely all parties will be satisfied entirely, but the developer is committed to creating a vision for a project which accommodates a variety of needs on the property abutting the city's proposed new Civic Center campus, said Baker.
"If everyone is pretty open about what are the concerns and issues, it allows us as the developer to find some balance that is acceptable. It may not be loved by everyone, because it is impossible to please everyone, but we can find a balance that everyone can get behind," he said.
The developer was selected last year to enter exclusive negotiations to build the project ahead of three other finalists. The initial proposal was comprised of 812 units, with 162 affordable units to be built by Bridge Housing in a standalone building. Plans also include 5,500 square feet of child care space, 7 acres of parkland and 13,000 square feet of space reserved for artisanal merchants such as coffee roasters, breweries and other independent businesses.
City officials have noted the project may not reach the same size and scope of the original development proposal, and Baker said it is too early to discuss specifics of the most recent project iteration.
The tallest building will not exceed eight stories though and its height will be comparable to the nearby Kaiser Permanente Medical Center building when viewed from El Camino Real, said Baker.
Limiting the height is a key concern for the developer, following the eyebrows raised by residents when another project design included a proposal which reached as high as 12 stories.
When renderings of the larger project started to circulate, community members flooded meetings last year voicing their opposition with claims that the project did not meld with the character of South San Francisco.
In recognition of the emotions surrounding the project, Baker said his company has been focused on collecting as many perspectives on the proposal as possible to assure designs are reasonably compatible with the community vision for the site.
"We are gathering as much information from the community as we can to tailor our design," he said.
He said the community outreach campaign started late last year and will continue through the summer, as developers eye moving into the public hearing phase of approval later this year. If all goes according to plan, Baker said he is hopeful to break ground next year.
Those interested in sharing their opinions on the project are encouraged to attend town hall meetings which will be hosted by the developer over the summer, or visit the project's website, where a survey is available.
For his part, Baker expressed his enthusiasm for the project while noting that planning remains in its formative phase.
"We are still at an early stage," he said.