By casting their ballots for Mayor Donna Colson and Vice Mayor Emily Beach, Burlingame voters voiced support Tuesday for incumbents who pledged to maintain the community's quality of life and keep the city's housing and transportation initiatives front and center for the next five years.
Beach captured 38% of the vote and Colson earned nearly 37% support, sending both sailing into their second terms on the Burlingame City Council. Challenger Mike Dunham earned more than 24% of the vote Tuesday, which was not enough to unseat Colson or Beach.
How to best manage the city's transition from a once-sleepy suburb to a thriving job center has been central to the candidates' discussions in the months leading up to Tuesday's election. Maintaining Burlingame's charm as the city embraces Oculus — Facebook's virtual reality initiative set to occupy the massive commercial tower rising along the Bayshore — as well as ensuring the city's transportation infrastructure can meet future demands also surfaced as priorities for the candidates on the campaign trail.
Having knocked on hundreds of doors and attended several meetings and events in the months leading up to the election, Beach felt she gained a better understanding for the city's pulse and looked forward to the opportunity to leverage that experience as mayor in the coming year.
"I'm just honored to have the support from the city of Burlingame," she said. "We've got our work cut out for us, but I think we've got a great community here."
Though Beach acknowledged quality of life was top of mind for the community, she noted transportation initiatives like improvements to the city's stretch of El Camino Real and a grade separation project at the Broadway Caltrain station will remain a focus for her, adding that many voiced concerns about the city's affordability and whether workers are being paid enough.
Colson expected to continue pushing forward on steps the city has explored to boost housing and ensuring a new neighborhood near Rollins Road is resilient and green. She also looked to plans to redevelop the downtown civic center into a destination accommodating City Hall as well as workforce housing to help address several of the city's needs.
"I think we have a lot of really important work to continue, some new initiatives to think about and I'm looking forward to having time to do that," she said. "It's really hard to continue to meet the needs of the residents when we don't have enough capacity in our community civic center."
As home to miles of Bayfront land, Burlingame officials have long monitored the possible effects of sea level rise, noted Colson, who looked forward to engaging with a countywide agency formed in recent months to tackle the issue.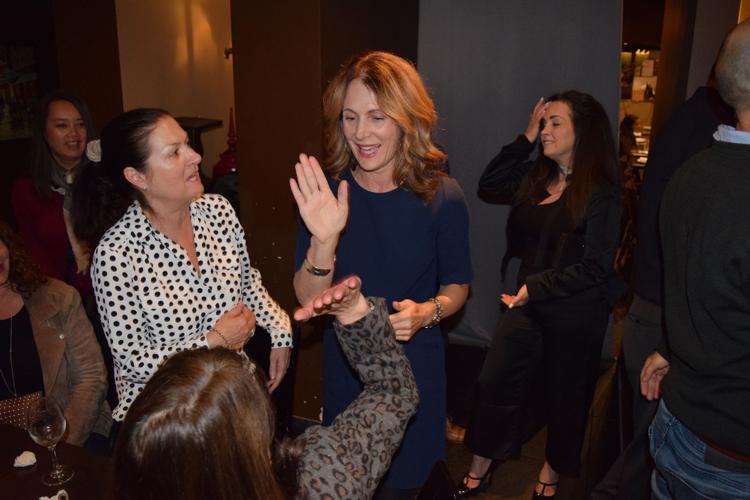 Colson said safety on Burlingame Avenue, efforts to reduce greenhouse gas emissions in the city and concerns about growth in the city were among the other questions residents raised in her outreach to voters.
For his part, Dunham expressed gratitude to those who believed in him in the last few months, and felt his campaign resonated with many frustrated with the direction the city has been heading in recent years. He said he spoke with many who felt the city has failed to maintain a balance between the available jobs and housing opportunities and expressed concerns about the rising rents and traffic congestion associated with the imbalance.
"Very few residents are excited about the Facebook campus that's opening up next year and have very serious reservations about what it means for traffic and affordability and all other aspects of living here," he said. "Most cities in the Peninsula are not balancing these things correctly and it is the reason we are in a housing crisis."
Dunham also expressed concern Burlingame voters will wait another three years before any of the council's seats go up for election again, and said he hoped they would get a chance to weigh in before the next election in 2022. He was reticent to say whether he would run for a council seat again.
Beach acknowledged the hard work all three candidates put into the race and expressed gratitude for the insightful discussions they've had with residents in recent months.
"I think there were a lot of very important issues that all the candidates talked about and had to address," she said. "We need to keep engaged with all these citizens as we move forward in the months ahead."