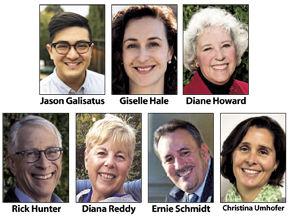 With a little more than a month to go before Election Day, all seven candidates for Redwood City Council gathered Wednesday night at City Hall for a forum that largely revolved around affordability, housing and development.
Organized by the League of Women Voters, the discussion also covered the city's financial outlook, including the proposed half-cent sales tax hike on the November ballot, and emergency preparedness.
Questions were submitted by the audience, and there was only standing room for the event.
The candidates include Jason Galisatus, activist and member of the Complete Streets Advisory Committee; Planning Commissioner Giselle Hale, longtime Councilwoman Diane Howard; Rick Hunter, accountant and former planning commissioner; activist Diana Reddy, Planning Commissioner Ernie Schmidt and local businesswoman Christina Umhofer. There are three seats up for grabs.
Each candidate spoke at length about the desperate need for affordable housing, but there was some variety of opinion as to the root of the problem and how to build it.
Several candidates specifically emphasized the housing shortage as the primary driver of high prices.
"We have to look at the reason why housing is so unaffordable in the first place. The fact of the matter is it's a shortage," Galisatus said. "We cannot achieve affordability if we do not address the shortage. ... There are candidates on this dais who do not support addressing the shortage, market rate or otherwise and that's a problem."
He added that Veterans Boulevard, Broadway and Sequoia Station are great locations for housing — but not the salt ponds and other areas that would "encroach on our open space" — and called for more home ownership opportunities in town, specifically mid-range options, such as condominiums.
Hale agreed that building market-rate housing leads to affordability.
"Forty-two percent of the affordable housing in the United States started as market-rate housing — that's how you get affordable housing," she said.
Howard also described housing supply as the "real crisis" and said building more of it will lead to job growth.
"Our housing is woefully behind our office and our retail and we need to close that gap," she said. "If we build more housing, that will create more jobs. ... I truly believe that if we have more people living in Redwood City, companies will stay. They'll have happy employees who don't want to leave and you won't see companies going off to some other state. They'll stay and invest in Redwood City, but it's up to us to build that housing and have it available for people to live here."
Hunter advocated for a slowdown of office development to balance the jobs-to-housing ratio.
"The jobs-housing imbalance is what's creating the displacement and the unaffordability," he said. "So many jobs are coming in, and new office buildings, that those higher paid employees are able to displace lower paid employees who then have to move farther away from their homes and families. As part of this, we need to carefully slow down growth of office buildings while at the same time increasing housing supply because those are two sides of the equation."
Reddy pointed to speculation as one of the contributors to the affordability crisis.
"One of the issues that concerns me is speculation, not only for renters, where entire apartment buildings are being purchased and the residents are either being evicted or getting $500 or $1,000 increases, but also in single-family homes," she said. "In single-family neighborhoods, someone will buy a property that's pre-1940 and take it down and replace it with 100 percent of the footprint in a much larger house that's many times what it would originally cost. This prevents our young families from actually buying that house because people are coming in that have a lot more money, the difference between paying $1.5 million and $3 million."
Howard celebrated the role that nonprofits play in constructing and preserving affordable housing and Schmidt suggested creating "some kind of social housing business model" with market-rate, middle- and low-income housing all under the same roof. He suggested the El Camino Real corridor and areas near transit for such a project.
He also wants the city to work more closely with landlords.
"When I was on the Maple Shelter support committee, one of the things we did there was actively try to search for landlords who were willing to provide affordable rentals to the community, he said. "We can do that as a council as well and get a committee going to do the same thing and celebrate those landlords each year for providing such a benefit."
Umhofer presented herself as the sort of landlord Schmidt described, and said she sold an apartment building to a nonprofit in the past to keep tenants in their homes and in the community. And for the multifamily and commercial properties she currently owns, she said she charges $800 for a one-bedroom, $1,400 for a three-bedroom, commercial space of 1,500 square feet is $1,200.
"Not only do I talk about affordable housing, but I address affordable housing," she said. "On the city level, there are options and that's where we have to communicate with our Realtors and our property owners. That's where the work begins and everybody has to be open to do so.
"We need as a city to look at our mixed-use zoning and make sure our industrial restricted zoning and our light industrial zoning stays as is and we don't switch those to commercial because that will take out the option to include housing in those zones," she added.
On the topic of the city's financial constraints, largely driven by pension debt, candidates spoke about the need for new revenue sources. Hale supports the half-cent sales tax on the November ballot, but said "we need to look for ways outside of taxes."
"Interestingly enough development can be a way of doing this," she said. "It would solve for both our housing needs and provide revenue. The Downtown Precise Plan has created $5 million in annual revenue on property taxes and $2 million in retail tax. So developing smartly can be a way of generating long-term sustainable revenue for our city."
As for reducing expenses, Hale suggested a greater reliance on shared services contracts with other cities and on technology to make the city's day-to-day operations more efficient.
Umhofer sees a money-making opportunity for the city at the waste management plant.
"We have a great resource to generate revenue and it's our waste management plant in Redwood Shores," she said. "We can put a micro-grid that not only makes the plant self-sustainable, but we can grow onto that and we can sell back the power to our residents and our businesses."
Umhofer also supported the sales tax to preserve fire and safety personnel. Just about every other candidate endorsed the measure with varying degrees of enthusiasm. Reddy said she prefers alternative revenue sources.
"There probably isn't any way to avoid it, but I'm not an enthusiastic supporter of the tax," she said, adding that the proposal comes at a time when a countywide transportation tax will also be on the ballot and bridge tolls are set to rise. "I would prefer that we look at more imaginative ways to solve that problem. Taxes are very difficult for low-income families and that's a group that I particularly advocate for."
She proposed a head tax or a square footage tax on the city's large corporations.
During the hour-and-a-half forum, candidates also weighed in on the city's recent minimum wage hike, past development proposals and the role of the council should a disaster strike. Even discussion on that topic wound its way back to housing.
Hale said police officers on average live 50 miles away from town and related conversations she recently had with a few of them.
"I asked the question, what is it you really need to do your jobs, what is it that's hindering us and there was a common theme: housing," she said. "Mountain View and other cities have created city staff housing. It's something we could do, we have the expertise, we have the land and it would allow us to keep our officers and important city staff closer and on-hand in the event of an emergency."