In an effort to increase the inventory of homes available to middle-income residents and workers in need of a boost to be able to buy their first home, the Housing Endowment and Regional Trust of San Mateo County, or HEART, increased the maximum home price for its first-time homebuyer loan program to $908,156.
Up 14 percent from its previously-set maximum home price of $795,187, the change adopted earlier this month in HEART's first-time homebuyer program was also accompanied by an increase in the program's qualifying maximum household income of $170,000, up from $150,000.
Created in 2008 to help those making a moderate income purchase their first home, the program was aimed at giving middle-income families who don't qualify for below-market-rate units a chance to gather the funds necessary for a down payment on a Peninsula home, said Boris Vatkin, HEART's management analyst.
But with housing prices rising by more than 20% between 2017 and 2018, HEART staff increasingly encountered households such as a two-teacher household making $160,000. While households like these weren't eligible for the program, they also didn't make enough to come up with a down payment on a home in San Mateo County, said Vatkin. In comparing the number of homes sold for under $795,187 against those sold for more than $900,000 in 2018, HEART found many more homes could be made available to those seeking assistance through the loan program if they increased the maximum home price, he said.
"For people that work in the industry, they know that a $1 million home a lot of times here is your starter home," he said, adding that many of those homes would have been sold for some $600,000 two or three years ago. "We were just trying to keep up with the meteoric rise of the market."
Vatkin said that in partnership with Meriwest Mortgage, a wholly owned subsidiary of Meriwest Credit Union, the loan program has been able to help 87 families find and purchase their own home since its inception more than 10 years ago. He said teachers, nurses, first responders and public sector workers are among those who have benefited from the program, which is geared toward those living or working in San Mateo County and searching for a single-family home or condominium within the county.
While many loan programs require prospective homeowners to pay a 20% or 10% down payment toward their homes, HEART's program allows eligible residents and workers in San Mateo County to pay as little as a 5% down, explained Vatkin.
Together with a 30-year, fixed-rate mortgage offered by Meriwest Mortgage and a 15-year loan from HEART of up to 15% of the home purchase price, a homebuyer could purchase a house by paying a 5% down payment through the program, he said.
Vatkin said most banks view homebuyers paying less than a 20% down payment as riskier borrowers and require them to buy a private mortgage insurance, which protects the banks in case the homebuyer defaults. But with the HEART program's guarantee behind the second down payment loan the nonprofit offers, homeowners in HEART's loan program are treated the same as those paying a 20% down payment at the time of their home purchase, which can save them the thousands of dollars they would have otherwise spent on private mortgage insurance, he added.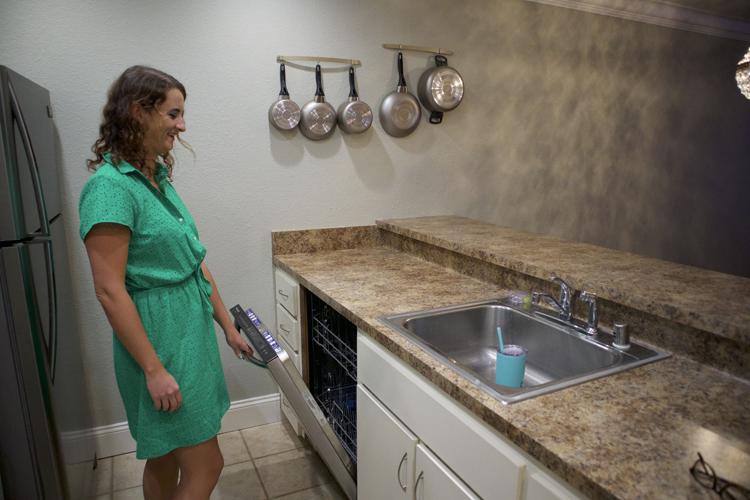 For Julie Barnard, economic development coordinator for South San Francisco, the prospect of owning her own home as a single person seemed distant before she started looking into HEART's first-time homebuyer loan program late last year.
"I never thought it would be a reality for me in the Bay Area," she said. "I hadn't thought about it seriously at all."
Barnard said she learned of the program through her work for the city and had seen a coworker participate in it a few years ago, but when the apartment building where she was living was sold, the 38-year-old wondered whether she would be able continue renting there and thought more seriously about buying her own place. She said started looking for a new home in January and in the middle of February, successfully put an offer on a one-bedroom condominium in the Shelter Creek Condominiums in San Bruno.
She said she feels extremely lucky to have found a condominium she liked so quickly, and credited the HEART program and her Realtor for making her own home a reality.
Anita Domondon, vice president for Meriwest Mortgage, said she has seen the number of people HEART's loan program can help diminish over time as home prices have skyrocketed and competition has increased for homes in the Peninsula. She said Meriwest Mortgage and HEART staff hoped the new program limits would give more prospective homebuyers the opportunity to own a home in the community where they live and work, noting the workshops the nonprofit holds on the program have consistently drawn more than 40 people each time they are held.
Though interest remains high in these programs, Domondon said the inventory of homes available at a price point affordable to residents has become increasingly limited. Because matching someone with a home they can afford can take a long time, Domondon said it's especially gratifying when they can welcome family members into their first home.
"What we want to do is to be able to give HEART homebuyers a fighting chance," she said. "They work in the community, so they should be able to be a part of the community."