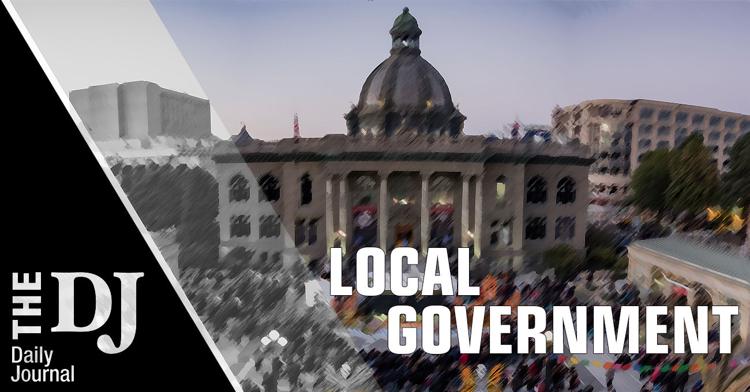 In voting to place an increase of 2 percentage points to San Carlos' hotel tax on the November ballot and tabling a vote on a ballot measure to create a new tax on commercial cannabis activity Monday, city officials are taking steps to ask residents to weigh in on measures aimed at boosting funding for city services.
Likely to join a proposal to increase the city's hotel tax to 12 percent from 10 percent is an excise tax of up to 10 percent on commercial cannabis activity, which officials tabled in an effort to make the ballot language easier to understand for voters.
Of particular concern for Vice Mayor Cameron Johnson was language in the cannabis tax ballot measure text he felt might make voters feel like they are deciding whether to allow retail stores in the city or that there are existing commercial cannabis stores in San Carlos. Though the City Council adopted an ordinance allowing commercial cannabis cultivation, manufacturing and testing in December, no commercial cannabis businesses are currently operating in the city and retail cannabis establishments are prohibited.
"Because retail cannabis businesses are not permitted in San Carlos, I wonder if some voters will be somewhat confused," he said. "I think that most people will think about this like a sales tax and so when they picture it, they will picture the future cannabis retail shop that will pay this tax, which is currently not permitted in San Carlos."
Expected to generate $200,000 in revenue should future businesses generate a gross revenue of $2 million, the new tax would capture revenue from sales businesses are making to other businesses, transactions that would otherwise not trigger local sales tax, said Rebecca Mendenhall, the city's administrative services director. Mendenhall explained a community survey conducted in early 2018 showed 72 percent of those surveyed would support the city establishing an excise tax on commercial cannabis activity in the city, and added the annual revenue generated by the tax could increase to $500,000 if a future council is to allow retail businesses in the city.
In response to a question from Councilman Mark Olbert, City Attorney Greg Rubens explained councilmembers would have the ability to adjust the tax rate if needed, as long as it is no higher than 10 percent.
Johnson also expressed concerns with including the estimated revenue from the new tax in the ballot measure language given the many variables on which the projections are based. City Manager Jeff Maltbie said the $200,000 in projected revenue is a conservative estimate, but noted the reference to potential revenue from the measure could be taken out of the ballot measure text, for which a maximum of 75 words has been set. Instead of making amendments to the proposed text Monday, officials agreed to have staff make changes based on their feedback and present updated ballot measure language to the council at its June 25 meeting.
Councilmembers voted 4-1 to put a transient occupancy tax, or TOT, on the November ballot, with Councilman Matt Grocott voting against the action.
At 10 percent, the city's TOT is one of the lowest in the county, said Mendenhall, who added other cities with similarly low rates are taking steps to increase them through ballot measures. If voters support the increase — which would boost the city's TOT by 2 percent Jan. 1 and increase 0.5 percent each year after that until it hits 14 percent — the city's TOT could generate an estimated $850,000 to $1.65 million annually once fully implemented. Mendenhall added the revenue could be used to support sidewalk repair and maintenance projects or offset lost revenue should an effort to repeal Senate Bill 1, otherwise known as the gas tax increase, prevail in the November election.
The city's current stock of 378 hotel rooms is soon to double as three new hotels open in the next three years to join the seven currently operating in the city, said Mendenhall. She added the tax could capture additional revenue from incoming hotels like the 173-room Hilton Garden Inn at 1091 Industrial Road and the recently opened 204-room Residence Inn by Marriott known throughout the planning process as the Landmark Hotel, along with plans to demolish the 29-room Hotel San Carlos at 26 El Camino Real and build a 104-room Hyatt Place hotel in its place.
Councilmembers agreed to make a minor change to the ballot measure language suggested by staff to more clearly show the increase in annual revenue expected with the tax increase.