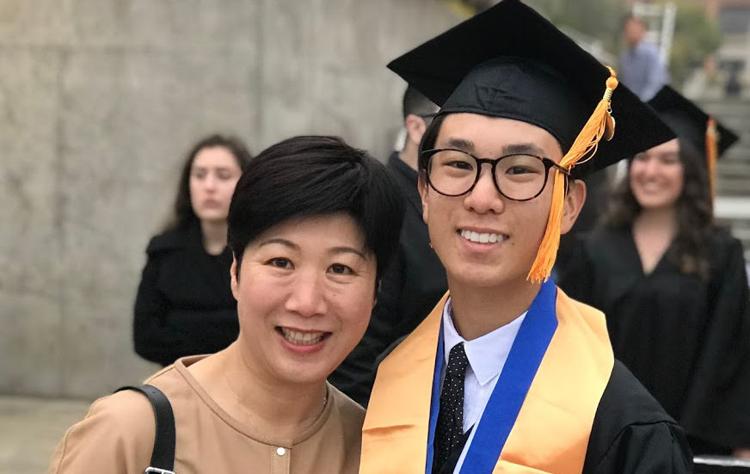 One of the youngest ever graduates from Skyline College who recently received two associate degrees is looking to inspire other young students to take a similar path.
Benjamen Gao, 17, graduated summa cum laude with a 4.0 GPA from the San Bruno community college Friday, May 24, with degrees in Spanish and interdisciplinary studies.
The Burlingame native who simultaneously attended Design Tech High School on the Oracle campus at Redwood Shores said he is hopeful his success will motivate other high schoolers to also push the boundaries of academic achievement.
"I've been really happy helping people, or directing people, and showing people the journey," said Gao, referring to the guidance he offered to classmates seeking to follow his path.
Gao first started attending Skyline College to build his lifelong appreciation for Spanish. Since d.tech specializes in project-based learning, students wishing to take supplementary courses need to look to local community colleges.
After enrolling at Skyline College and taking a few classes, Gao realized he was close to meeting the graduation requirements, which encouraged him to take on additional credits.
"I thought 'hey, I might as well finish this,'" he said.
A similar path led him to getting the interdisciplinary studies degree, as he gained exposure to some of the courses when taking general education classes and collected enough credits that it was worth investing the extra time and effort to graduate, he said.
In all, the process took roughly three years and exposed Gao to courses, classes and professors he otherwise may not have sought out, he said. He said the interdisciplinary studies courses were especially useful in expanding his educational horizons.
"It allowed me to see what I wanted to do before going to college," he said.
Yet despite his passion for the two fields which he received degrees in, Gao said his true interest is in environmental policy and he plans to apply to Stanford University, the University of California, Berkeley, and Harvard University next year.
Gao still has one more year to finish at d.tech, which he credits for offering him the flexibility to pursue his interests beyond the courses offered in high school.
"The great thing about d.tech is that it allows people to pursue their true academic interests," he said.
He added teachers at d.tech were largely supportive of his initiative and often allowed him to fold lessons from his college courses into his high school projects.
There are downfalls to that model too though, said Gao, as less motivated students may take advantage of a lax environment and not get the most out of their education.
Those students are the ones that Gao said he hopes to inspire by showing that the opportunity exists to find more compelling courses elsewhere, if the d.tech curriculum does not resonate.
"There are a lot of opportunities for students to grow and pursue great projects by showing students you can do separate things in addition to school work," he said.
Looking ahead, Gao said he plans to continue attending classes at Skyline College and will work over the summer with some of the professors he met to work on environmental and social justice projects.
Reflecting on his time at the college so far though, Gao admired his accomplishments and said the experience fueled his interest in pursuing his passion for higher education.
"It was a very surreal experience. Before the commencement ceremony, I didn't want to go. I thought it would be boring. But I'm glad I went to see all the support. I think it was a great experience that motivated me to do more," he said.