As Peninsula residents sheltered in place these last four months, many took advantage of their increased free time to clean out their closets.
Until recently, those discarded home items had nowhere to go.
There are now six Goodwill stores open in the Bay Area, including San Mateo and Burlingame. Kyle Richards, manager of the Burlingame Goodwill, said reopening sites for donation drop-offs and shopping was "like opening the floodgates."
Bay Area donation sites have averaged a total of 750 donor transactions in the last 30 days. Before the pandemic, there would usually be an average of 350 donor transactions per day.
"The generosity of the community is amazing," said William Rogers, CEO of the San Francisco, San Mateo and Marin Goodwill chapters.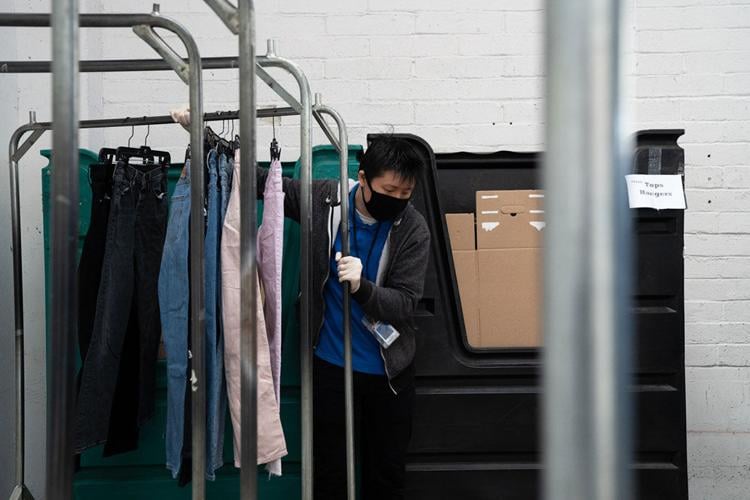 Goodwill has taken precautions in line with county health orders to keep people safe as they donate and shop. Goodwill donation sites have initiated a "contactless" drop-off system. Those wishing to donate can remove donations from their car and use a digital QR code instead of exchanging receipts and pens. Donations sit in a warehouse for 72 hours to disinfect before they are processed.
Goodwill employees wear masks and gloves and participate in routine health surveys. Shoppers are required to wear face coverings as well. Employees regularly sanitize high-touch surfaces and installed social distancing markers on floors and Plexiglas panels at registers to further reduce the possibility of coronavirus transmission.
Shoppers showed no hesitation in coming back as stores reopened. Richards said that on the first day of reopening, the line to enter the store stretched down the block. Richards said that thrift shopping is "like therapy for people" and shoppers are happy and grateful to be back.
Employees are grateful for the reopening as well.
"It feels great to get a little sense of normalcy," said Jeff Casey, an employee at the Burlingame store.
The primary function of Goodwill as a nonprofit is its job training program. By working at Goodwill stores and warehouses, participants obtain the skills they need to break into the Bay Area job market. At Goodwill, 95% of employees start the program with low or no income; 27% have limited English proficiency; 20% have had interactions with the criminal justice system and 10% to 15% are homeless or have been homeless in the past year.
The shutdown of stores and donation sites placed the Goodwill organization and its employees under extreme financial stress. As Goodwill is a nonprofit of more than 500 people, it was not eligible for government aid. Goodwill board members raised funds and made personal donations to pay for furloughed employees' health insurance. Additionally, Goodwill employees were paid for four additional weeks after being furloughed, creating a financial bridge toward filing for unemployment. As sites around the Bay Area reopen, 150 of the 500 furloughed employees are back to work.
Goodwill is 80% self-funded through its stores. The resurgence of donations and shopping is helping the organization make its way back.
"The community has created an entire infrastructure just by donating," Rogers said.